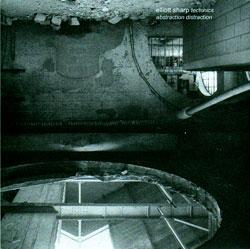 In Abstraction Distraction, the latest chapter in Elliott Sharp's Tectonics saga, the Ohio-born New Yorker focuses entirely on saxophones (soprano and tenor) and synthesis (analogue and digital). The introvert kernels and sudden agglomerations we grew accustomed to throughout the years are replaced by a somewhat more edible crossbreed of avant-jazz-tinged reed improvisation and mutating backgrounds where repetition, fragmentariness, murkiness and intelligibility seem to weigh the same.
There's often a distinct sense of air, of spaciousness in this outing that is quite unusual for Sharp. He uses a delay pretty efficiently in the opening "Quadrantids" — constructed upon skewed electronic rhythms reminiscent of past glories such as "In The Land Of The Yahoos" — but also employs acoustic drum samples (borrowed by loyal comrades Joseph Trump, Sim Cain and Tony Lewis) amidst characteristically rational anarchy, as heard in the degenerative drum 'n' bass deflagrations of "Blown Away". Several sections would be very useful as a soundtrack for contemporary dance, and who knows if the convulsive beat in, say, "Vortex Field" was created with that kind of plan in mind.
Admittedly, I hadn't been completely won over after an initial dipping of my toe in this CD. Never, ever judge a record from the first listen; after a subsequent try, in a different setting and at higher volume, the music started to affirm its real value, the typical problematical flavor of this composer's art, there again for the improvement of our mechanisms of brain stimulation. You can decide what to follow: an obsessive pulse, the saxes' answers to questions posed by themselves, the nebulousness of apparent loopholes through which the sonic mass occasionally seems to be directed; or just settle on being surrounded by all of the above, glad for yet another electroacoustic organism that won't conform to the rules of anticipation.
Comments and Feedback: