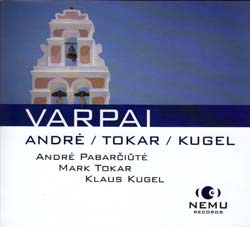 A Lithuanian, a German and a Ukrainian walk into a church...
No joke — that's the premise of Varpai. Singer Andrė Pabarčiūtė, percussionist Klaus Kugel and upright bassist Mark Tokar explore their instruments and the lush acoustic space of Church Sankt Mariä Namen in Engelskirchen-Osberghausen Germany. The results are a true mélange of stylistic diversity with one theme that permeates the ten pieces: integration. Jazz, so-called world music and the use of extended techniques fuse into a remarkable set of shapes within a frame (that being the moment each track stops and starts), the three musicians continually stepping back just before the moment you can hang a label on them.
The introduction, "Symphonic Fields", establishes this precedent with a work that is at one moment Dead Can Dance, another George Crumb's Madrigals series: Pabarčiūtė flits between operatic warbled notes, frenzied quavers, whispers and ritualistic chants; Kugal plies a bed of bowed and rung bells, clacking wood, subtle bullroarer and timbre-opulent gongs — making use of everything he's rarely hired to play during his day gigs; Tokar works as a mediator between the two, caressing the mix with deep tones, then accelerating in a flash at his highest register, then carrying the sporadic melody begun by Pabarčiūtė. The trio pivots into "Wood Dance", a guttural undertow of Pabarčiūtė's choking breath, heaves and nonsensical sprechstimme, Kugal's insistence of metallic drones and reverberant pounding, and Tokar's spiders-on-your-back pizzicato and clawing harmonics.
Though most of the works wallow in tense placidity and slow exhales, the trio often bubbles up to the surface with tender playfulness (i.e. Pabarčiūtė's sing-song child voice paired in frantic duet with the bassist's trills and staccato cracks over Kugal's maniacal rumble on "Archaic Glimpses"; after a series of unison "shouts", the shuffling beat, almost-scat outro of "Play or Way"). However — here is the punch line — their success is rooted in the realization of sounds that creep and sneak and writhe together, these the group unrolls as an enigmatic bargello, one lugubrious gesture at a time.
Comments and Feedback: