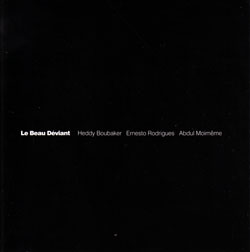 Experiencing this disc is like sitting in your back yard and listening to the environmental sounds. A breeze lifts here, a bird chirps there, a lawnmower starts up, a car whizzes past, someone is raking leaves, a bee buzzes by, someone is hammering nails on a deck, a dog barks.
But such a description only begins to tell the story of the aural sculptures of Le Beau Déviant, six tracks that form a cohesive, coherent sequence of moments in time. One thing is for sure: with limited means (saxophone, viola and prepared electric guitars) the trio manages to conjure a plethora of sonic textures and shapes and tell stories that make one lean in and listen.
Heddy Boubaker's fragments of reedy saxophone sputters (alto and bass) blend imperceptibly with Ernesto Rodrigues' minimalistic viola lines and the spare shreds of Abdul Moimême's electric guitar. Weaving mostly textural composition of the electro-acoustic variety, this trio confabulation is a seamless unity, albeit made up of six tracks with poetic French titles like "le chant de la pluie" ("the song of the rain"), "L'echec des machines formidables" ("The failure of the formidable machines") and "un beau matin, la déchirure" ("One beautiful morning, the break-up").
An impressive coherence evolves from track to track and the whole disc feels like one long meditation on time passing, how sound is evidence of that, and how sounds help make up the stories that we return to for meaning or simple solace. This disc has plenty of both.
With judicious use of silences and hyper-sensitive attention to the innate qualities of the slightest sound, the three musicians have thrown together a highly interesting detour for curious ears.
Comments and Feedback: