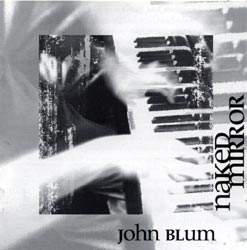 'Naked Mirror' is the debut solo disc of gifted pianist John Blum, and a very impressive one. Blum has an impressive resume as a student of Bill Dixon, Milford Graves, Borah Bergman and Cecil Taylor, and as a pianist in some of the most adventurous orchestras and ensembles of our times, including those led by Dixon, Taylor and William Parker. He has played with Han Bennink, Marco Eneidi, Mat Maneri, Sabir Mateen, Jemeel Moondoc, Cooper-Moore, Susie Ibarra and Parker.
On this new release from a 1999 session, Blum comes off as a deep thinker, always searching and exploring his compositions, sometimes seeming to be possessed by his rich textures but keeping a coherent flow over the eight pieces. Don't expect light moments in this dense, 40-minute disc. Blum is a musician who aims at the very personal, the most intense spheres, always developing and honing his original voice.
The title is not a reference to the Zen patriarch Hui-neng's well-known poem about the empty mirror, but to a very sad poem by Blum's friend Jeremy Green, who died ten years ago at the age of 25.
This disc will hopefully lead to more releases from this very interesting pianist, with luck in a context that will involve some of the great musicians with whom Blum has played.
Comments and Feedback: