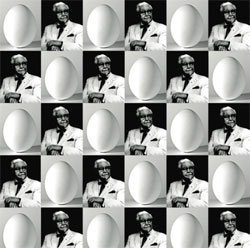 The world seemed a duller place after Harry Pussy broke up and Bill Orcutt's guitar fell silent sometime in the late '90's. Now that he's back, making the rounds and releasing product, there are things to look forward to. Like this little record.
Most of his output thus far had been on acoustic guitar, strung with only four strings as is his custom, and purely solo. In an online interview a while back Orcutt had expressed the desire to play electric guitar, with a drummer, and The Raw and The Cooked makes good on this threat, enlisting percussive whirlwind Chris Corsano. This short (about 25 minutes) album is comprised of recordings from a short tour the pair conducted in the summer of 2012, and bears all the hallmarks of a stand-out LP.
Short running time: check. Blistered raw recording quality: check. Fury and pathos in almost equal measure: check. Orcutt's guitar work has several distinct qualities, one of which is the aforementioned use of only four strings, which removes the middle register from his sound and negates the standard rock/power chord cliché. Another is his penchant for repetition of short phrases, which slowly blur into spiked balls of harmonic dissonance. Blur is an apt description of the full goings-on as well, as the lower-fi sonics tend to mash drums and guitar together into a thick paste, a tasty molé for the ears and mind. Corsano always seems to come up with just the right counterpoint. The pieces (all untitled), range from short flailing tantrums to longer, stretched out explorations, and from fits of yelling to lump-in-the-throat melody. The short running time works in their favor, as it doesn't tax the attention span, and ultimately leaves us wanting more.
Comments and Feedback: