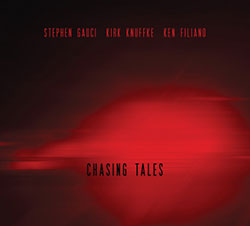 It's not often that saxophonist Stephen Gauci jumps into multiphonic mode, so that when it happens, the impact is special indeed. Toward the end of "Boogaloo," he dives headlong into a raunchy tone which, by itself, is impeccably timed, but with Kirk Knuffke's cornet emitting overtones in a nearly matched will of fluttering pitches, the blood begins to boil. Add Ken Filiano's deep groove to the mix, and the heat is turned up even further. The moment is matched in intensity by Filiano's cruncy double stop in the following track, both instances illustrating that this drummer-less trio can crank up the voltage at any time, and to maximum effect.
All three players' vocabularies have deep roots in what could be called postbop, but each is perfectly content to travel the spaceways at a moment's notice. To say that this is a freebop date would be to discount, just as an example, the deep bluesiness of the title track, after the chamber-music duet of Gauci and Knuffke, when the composition proper's uhr-swing takes over. Then, there is the trumpet ululations and creaking arco duet that opens "Probing for Places," as decidedly timbral as this group is likely to get. Usually, a fair amount of tradition is audible, as Knuffke inhabits Clifford Brown's world as he slides between pitches and exhibits a similarly rich tone and blanket-warm vibrato. Simply put, there is not a bassist more versatile than Ken Filiano; If outside-the-box freedom is required, he's there, and if in-the-pocket groove orders the day, no one puts more energy into every groove and slide. Gauci channels the tonal flexibility of Sonny Rollins through new-thing swirls and liquid-fast chromatic runs that he unfurls at just the right second. Most impressive of all, he'll let hang a long looming note, such as the achingly vibrato-ed pitch hanging just between C-sharp and D as "Symphony in K"'s raga-rock roars to life.
This disc should have a broad appeal, engaging with composition and free improvisation in turn and in good balance. The music can be chamber-intimate and concert-hall huge, existing in a reverberant space that is never overpowering. The recording and the music are uniformly excellent.
Comments and Feedback: