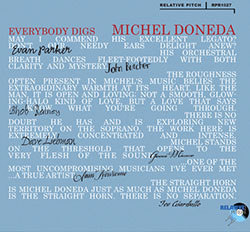 While French saxophonist Michel Doneda has been recording for 30 years (his first album, Terra, was released by Nato in 1985), he isn't often seen in North America nor heard on stateside labels — a couple of releases on the Quebec label Victo and one on Sedimental may be the only American releases prior to the wonderful (and wonderfully titled) Everybody Digs Michel Doneda, issued by the New York City-based Relative Pitch Records.
Doneda is an extreme internist on his instrument, much like the British saxophonist John Butcher but perhaps rawer, more brutal (would "punk" be too far a stretch?) in his approach. The sounds he makes derive almost entirely from air blown through the horn without overt notes being produced. It is music that feels very quiet, introspective, internal, although at times surprisingly is very much not.
Everybody Digs was recorded in La Chapelle de las Planques in Tanus, France, in April of 2013 and the resonance of the chapel provides a nice external reverberation to the internal vibrations, a subtle but distinctive echo to the seven tracks. The 45-minute recital ranges from meditative to rhythmic to abrupt, even within a sonic palette that seems (on the surface) to be somewhat limited. There's a lot of sound within Doneda's soprano saxophone, and this CD captures it quite nicely.
Comments and Feedback: