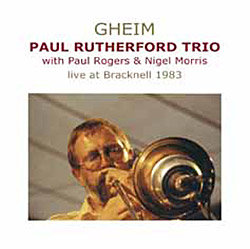 Originally released on cassette on the Ogun label in 1986, here we have a fine set of recordings from the trio of Rutherford (trombone, euphonium), Paul Rodgers (double bass) and Nigel Morris (drum set). As always with Emanem releases, production is first rate with beautiful packaging.
This is a perfect example of what is referred to as non-idiomatic improvisation — the rhythmic thrust and complexity of jazz, with most of the tethers removed. To be sure there are many points during the long (39:30) live opener when hints of well-known standards drift about, but they're more tonal/timbral reminders than actual quotes. A sort of "nudge-nudge-remember-this" playfulness to conjure smiles.
Any way you choose to view it this is a fascinating document, and very well recorded. Check out Rutherford's shifting tone and extremely quick note runs, Rodgers' gorgeous wooden sound or Morris' quiet but insistent tumbling. Or shift your focus and take in the entirety of their interplay, a somersaulting continuum. The quiet bit about two thirds of the way in (the piece is split in two on the disc) is particularly beautiful, all harmonics and sibilant metals.
In addition there are three shorter pieces recorded in a London studio later the same year. These seem slightly more laid-back, perhaps due to the absence of an audience or the pressure of a live performance, and a little more tightly recorded — Morris' cymbals are sharper for one thing. Rutherford's near-quotes are even more maddening here, veering from New Orleans to Ornette to Roswell Ruddisms all smashed together and strung amid the painterly splats and daubings of the rhythm section.
Comments and Feedback: