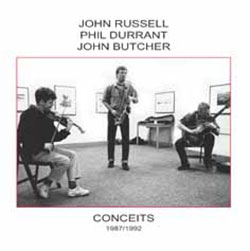 The trio of guitarist John Russell, saxophonist John Butcher and Phil Durrant on violin and trombone first came together in 1984 (when Butcher was brought in to replace a previous saxophonist) and persisted until 1998, the year they recorded their third and final trio album The Scenic Route for Emanem. For decades the three have been prominent members of the so-called "second wave of free improvisers" which followed in the footsteps of influential older players such as Derek Bailey, Evan Parker, Tony Oxley, John Stevens and Paul Rutherford. While Russell and Butcher both turned sixty in late 2014, Durrant is a few years younger. But when they recorded their first album, Conceits, back in April 1987, they were all in their early thirties with relatively thinly populated discographies.
The album was originally issued on vinyl as the inaugural recording on Acta, the label set up by the trio members to release it. This CD reissue contains the eleven studio-recorded tracks from the original release — altogether some thirty-seven minutes of music — plus a previously unreleased live track from 1992, which adds almost sixteen more minutes. The instrumentation, without piano, bass or drums, gives the trio a loose, free-flowing sound with no-one being its main focus and all three being equal contributors. As the timings indicate, the tracks on the original record were comparatively short by improv standards, ranging in length from just under two to just over six minutes. Consequently, the trio do not often stretch out and explore ideas at length, opting instead for a pithier, concentrated approach with emphasis on interactions between them. Notable among these are passages on which Butcher's sax is joined by Durrant's trombone, not least because of their novelty — after this album, Durrant played less trombone, increasingly replacing it with electronics.
Here, neither Durrant nor Butcher employs electronics as they would in later years, so all of the music comes from acoustic instruments. Two years after Conceits, this trio recorded another Acta record News from the Shed, on which they were joined by Paul Lovens on drums and Radu Malfatti on trombone, zither and accessories; that album proved to be crucial in the development of electro-acoustic improvisation, a field in which Durrant has been very active, notably with MIMEO and Trio Sowari. However, in 1987 all of that lay in the future, and Conceits provides a fascinating snapshot of three fine musicians at a formative stage of their careers, when their future styles were clearly recognisable but not yet fully formed. As such, it is of historical interest but also far more, with the previously unreleased extended live track, "Soft Hours and Solidities", being particularly fine. Very highly recommended.
Comments and Feedback: