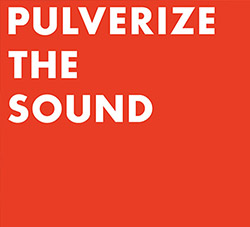 Seems the trio of Peter Evans, Tim Dahl and Mike Pride has been carving a wide swath through the current musical landscape. They achieve this attention grabbing display by playing music that is extreme in just about every way imaginable: speed, volume, timbre and collective thrust are pushed over the edge and into the unknown. If the future of music lies in the obliteration of genre, then these guys are among the most forward thinking. They mix sonic ideas from jazz, post punk, thrash, free improv, modern composition and out-and-out noise into an aggressive, ear slapping stew. I'll let trumpeter Evans explain:
"The musical process (and to some extent instrumentation) is not at all removed from the experience we all have in other improvisational and jazz contexts, but the raw materials are quite different, coming from a different place."
Indeed. They may play a choppy, smeared melody amid falling bricks and a thick fog of distortion which slumps into open space punctuated by slam bang punches, then fill in the openings with wildly processed electric string tumbling. Or they might suddenly all hammer on the same note a hundred times, like a head-banging mantra. You may forget, during the pummeling, that there is a grand design, and with attention this will reveal itself. There is logic and careful listening involved here, along with quick wits and fingers. This is true 21st Century music, and I cheerily await their next missive.
Comments and Feedback: