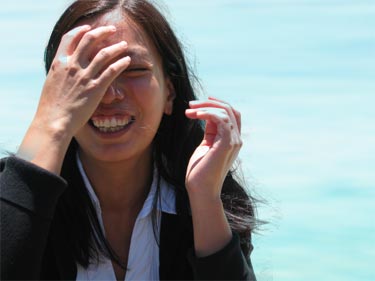 Ever since Susie Ibarra burst onto the international jazz scene in the early 1990s, the versatile young percussionist and composer has made it eminently clear that there is no boundary to her artistic vision, nor any assumption she was content to leave unchallenged. As a member of groups led by David S. Ware, William Parker and Matthew Shipp, Ibarra held her own among decidedly heavyweight company in a field still largely dominated by male performers. The ferocious energy and sinuous grace of her drumming cast aside any considerations of gender, as she quickly became a much-demanded collaborator for such leading maverick artists as Derek Bailey, John Zorn and Pauline Oliveros.
Ibarra stepped out on her own as a bandleader in 1999, asserting her growing confidence as a composer. Her fresh, original musical voice bears the influence of jazz, blues, contemporary composition, gamelan and the traditional music of her Philippine heritage. That voice has been manifested in a chamber music-influenced trio, a fiery mainstream jazz quartet and the hypnotically grooving Electric Kulintang project. At the same time, Ibarra has also been active in the free-improv trio Mephista, alongside pianist Sylvie Courvoisier and electronics performer Ikue Mori.
For most performers, the furious pace at which Ibarra's calendar fills up would prove more than sufficient. But for the last year, she was also hard at work on a project that any composer might find daunting, and one that most jazz-related artists would never consider tackling in the course of a career: The 32-year-old composer has just completed her first opera.
Based on a libretto by the Pulitzer Prize-winning poet Yusef Komunyakaa, Shangri-La received its world premiere on June 14 at the Mill Hill Playhouse in Trenton, New Jersey, produced by Passage Theater Company. Despite its bucolic title, Shangri-La is a challenging work, taking as its subject matter three Western businessmen drawn into the sex trade in Thailand, and their inability to escape the situation in which they find themselves.
The two-hour chamber opera featured a nine-member cast with a traditional Thai vocalist, two sopranos, one mezzo-soprano, two tenors, a baritone and a bass-baritone. Noted composer Tania Leon led an ensemble that included regular Ibarra collaborators Craig Taborn on piano, Trevor Dunn on bass and Roberto J. Rodriguez on percussion, alongside flutist Thea Reynolds, violinists Meg Okura and Joyce Hammon, violist Carol Cook and cellist Egil Rostad. Ibarra herself did not perform in the piece, for which she supplied a through-composed score that still provides for a degree of improvisatory freedom from the soloists.
Perhaps the most obvious question is why Ibarra would be interested in composing an opera at all. Blame it on her youth: Opera played an important role in Ibarra's childhood. "My mother took me to the opera when I was a kid," she said, her voice animated by a breathless ebullience that colors a conversation generously punctuated by laughter. "She had season tickets. My father's not an opera fan, and my brothers and sisters didn't want to go. I was the youngest, so I would be the one going with her."
For Ibarra, who grew up in Seabrook, Texas, a small town located between Houston and Galveston, this meant seeing first-class performances at Houston Grand Opera, one of the nation's most renowned and ambitious companies. "I grew up seeing incredible productions at Houston Grand Opera. In a way, this project takes me back to my childhood, because I have all these memories of different classical operas."
It was partially that childhood familiarity that led Ibarra to sign onto the current project when Komunyakaa, who conceived Shangri-La, proposed it to her. A Trenton resident and Princeton University professor, Komunyakaa is widely revered for his rhythmic, almost reportorial style. Many of his works have touched on musical themes; one, the epic-length Testimony, based on the life and art of Charlie Parker, was adapted as an opera by Australian jazz composer and saxophonist Sandy Evans for broadcast by the Australian Radio Company in 1999, and staged by the Melbourne Festival at the Sydney Opera House in January of this year.
Ibarra first met Komunyakaa in 1997, and felt an immediate affinity with the Louisiana-born poet. She accompanied him in several readings, and played behind him on Herido, a vibrant, bluesy session Komunyakaa co-led with Dallas-based trumpeter Dennis Gonzalez, which was issued by 8th Harmonic Breakdown in 2001. Despite her youthful passion for mainstream operatic lore, however, what attracted Ibarra most to Komunyakaa's project was its thoroughly contemporary subject matter - a refreshing anomaly in a contemporary opera scene still predominately mired in the reheated verismo of recent pieces like Therese Raquin, Little Women and A View from the Bridge.
"Yusef originally had the idea [for the opera] from a magazine article he came upon," Ibarra said. "It mentioned how British and European businessmen were going over to Thailand on sex tours, and how they were committing suicide and never coming back. It's set in Bangkok, but it touches on things that happen in a lot of countries, not just Southeast Asia. This stuff goes on in Cuba, it goes on in Eastern Europe, it happens pretty much everywhere. It's a story about paradise and hell-and how paradise can turn into hell-and it also touches on the AIDS epidemic, which is out of control in the sex trade."
The main character in Shangri-La is John Wong, "a Chinese-American metaphysical detective from San Francisco who is hired to go to Bangkok to investigate an embezzlement scheme," according to Ibarra. The three western businessman are Paul, a middle-aged African-American Vietnam veteran, Eddie, a troubled younger man, and David, the sleazy drug smuggler who is actually guilty of the crime Wong is investigating. Alee is a waitress who has a sideline in translating letters into English. Other characters include three women, Noe, Mana and Pidang, and the Barker, who runs the club. The cast may be unconventional, but the drama that results from their intersection is certainly operatic in scope.
"As musicians, we live with music and sound," Ibarra said. "We write songs, not characters. But writers live with these characters. So I've been living with these characters, and it's been really cool to experience that. Living with these characters for such a long time, they become real, like they're right behind you. It really is fun."
Though it may initially seem far-fetched to imagine an opera written by an avant-garde jazz drummer, for anyone who knows Ibarra's own recordings, it doesn't take a giant leap of imagination to understand why Komunyakaa sensed that she might be up to the challenge. Much of the music she has composed for her trio - particularly the current lineup that features Taborn and violinist Jennifer Choi - combines the rigor and transparency of chamber music with an unmistakable sense of narrative drama.
Increasingly recognized for her work as a composer, Ibarra was recently commissioned by the Smithsonian Institution to compose Lakbay, an extended suite for her trio that was premiered in December at the Freer Gallery in Washington, DC, in conjunction with an exhibition of photography by Filipino American artist Ricardo Alvarado. Ibarra has been tapped to write two new works for the Kronos Quartet (she will also perform in one of them), and she is also scoring two forthcoming documentariesby Chinese filmmaker Yan Jin.
Still, while Ibarra is not the first jazz composer to take a crack at opera,there have been few predecessors to whom she could turn for inspiration. The best known, of course, is pianist Anthony Davis, whose first opera, X, based on the life of Malcolm X, was produced to widespread acclaim in Philadelphia and New York in 1986. (It's notable, perhaps, that Davis-like his fellow improvisor Ibarra-was drawn to a contemporary subject for operatic treatment.) Davis has since composed three further operas: Under the Double Moon, a science fiction work; Tania, based on the kidnapping of Patty Hearst; and Amistad, detailing the historic slave-ship revolt and subsequent trial.
Other jazz composers have turned to more archetypal allegories for their operatic subjects, such as Leroy Jenkins's Mother of Three Sons, successfully staged by the Bill T. Jones/Arnie Zane Dance Company at Houston Grand Opera and elsewhere, and Anthony Braxton's Trillium R: Shala Fears for the Poor, critically lambasted after its New York premiere. Julius Hemphill employed a still more idiosyncratic approach in his Long Tongues: A Saxophone Opera, abstaining from using singers altogether. The one thing that unites all of these disparate works, unfortunately, is that none has found a place in the standard repertoire and only three (X, Tania, Trillium R) have been recorded, making it nearly impossible for a young artist like Ibarra to hear and learn from them.
Instead, Ibarra immersed herself in contemporary opera scores and recordings. She cites György Ligeti's dark, surreal Le Grande Macabre as a particular favorite, owing in part to its near-improvisatory freedom of expression. Ibarra admits to having been a bit overwhelmed initially by the notion of composing a work of such scale, particularly in light of her own daunting schedule. "I was intimidated by the fact that it could be quite long!" she said. "To me, time was of the essence. But you just have to break it down, and you just do it-like anything, you just begin.The libretto was written pretty quickly, and I find Yusef's words very musical, so it was really easy for me to write with them."
When she finally began to compose Shangri-La in earnest, the music that poured forth reflected her own personality and that of her collaborator, rather than slavishly imitating any particular past master. "Whatever you do, it's going to sound like you," Ibarra says. "There's an influence of Thai music, both traditional percussion and the classical court style. There's some gong music. And there's definitely a blues influence, because I feel that Yusef's writing is so heavily influenced by the blues. It's really kind of an interpretation of his words."
Given the difficulties and expense involved in mounting operatic productions, it's far too soon to tell what the ultimate fate of Shangri-La will be. Ibarra's prognosis is upbeat, however; Passage Theatre hopes to mount a full-scale production of the work, and presenters in New York City and elsewhere have indicated their interest. Meanwhile, emboldened by the experience of creating the work, Ibarra eagerly envisions an ongoing working relationship with Komunyakaa.
"In an age of specialization, people just concentrate in their own medium," she says. "It used to be that artists were collaborating all the time. We've developed this great collaboration, and we have a lot of other ideas. We work well in this medium, and we get the chance to talk about a lot of important things that I think need to be talked about."