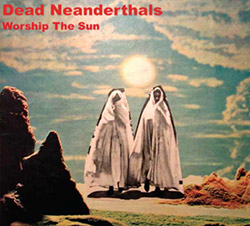 Dead Neanderthals occasionally expands it's membership to a trio, but here they are represented by core duo Rene Aquarius and Otto Kokke in an old-time sax/drums workout. Their press release calls them the new wave of Dutch heavy jazz and they try hard to live up to that here.
The drumming is nimble and inventive, percolating for long periods (listen to that bass drum rumble!), and the horn playing is rich in squeal and Evan Parker-ish overtone exploration. The operation is largely in that super-high register. Quick-pitched whines hang in the air over cymbal sibilance and interjected thuds.
The title may admit a nod to Coltrane/Ali, so the acknowledgement of fore-runners is evident. I'd put 'em on a festival with Sauter/Millions and the Wasteland Jazz Unit and watch the sparks fly.
Comments and Feedback: