April 17, 2019: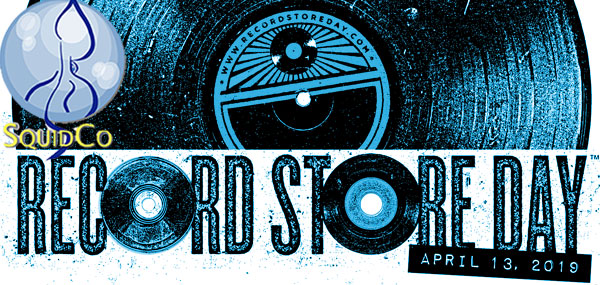 Record Store Day both thrilled and kicked our backsides this year, and though we only carried a handful of RSD Official Releases, the setup for and execution of our store-wide sale has kept us running until today. Thank you to all the customers who made the day so much fun and successful, and for the kind comments and feedback we received. As of this morning all orders are in the mail and we're busily restocking and getting ready for the next wave of releases.
And what a wave! Yesterday we completed the cataloging for the latest FMR releases, and put in stock albums from Not Two, Treader, Lovely Music, Recollection GRM, Sub Rosa, Thin Wrist, Eremite, El Paraiso and Rune Grammofon. Next up are Anthony Pateras' Collected Works Volume 2 on Immediata, Jakob Ullamn on Edition Rz, The Coltrane Memorial on Confront, four new Another Timbre titles, Christina Kubisch on Fragment Factory, two new Winds Measure albums, Moe! Staiano's Surplus 1980 Collective Ensemble on BeCoq, and several releases on Arjuna Music. All of these are here already and in the process of being cataloged, so you should see them on our website soon! Listed further below are a few other titles ordered and on their way to us.
Meanwhile, some meager words about a couple of amazing albums:
---
Biota: Fragment For Balance (Recommended Records)
From Mnemonist Orchestra to Biota, with 18 albums in total, the Colorado collective Biota presents its 11th album on ReR, taking 4 years to complete this genre-defying album of gorgeous abstraction through free improvisation and composition, absorbing styles and reflecting them in a filtered ray of melody & song through unusual instrumentation and arrangment; absolutely recommended.
I've been listening to the Colorado collective Biota since their earliest albums on Recommended Records, starting with the 1987 album Bellowing Room. I worked my way back to their previous existence, Mnemonists, managing to find copies of Horde and Gyromancy on LP before their much later CD reissues. I liked Mnemonist albums for their approach to what I then thought of as "industrial" music, because there was a certain darkness with depth and a sense of lightness in what they did. The albums were accompanied by art prints, adding to the appeal, and generally I found them mysterious and interesting.
Biota departed from Mnemonists in a much brighter sound, opening the upper range and accepting (gasp) melody in their music. I also appreciated that the music was extremely hard to pin down, taking unexpected abstract twists and turns in an hallucinatory manner; I would often find myself somewhere different that I expected to be, but generally enjoying my new location and wondering how I got there.
I collected each album over the years, which is arguably up to 18 albums if you include Mnemonists, and turn to them frequently on a leisurely afternoon. As the band has evolved they have embraced song, vocalist Kristianne Gale first joining the collective in 2007 for the Half a True Day album. Songs do not dominate their albums, but add direction as they appear in the Biota stream, with the lilt of an Irish folk song that adds impression and image to the music.
Songs like theirs are absolutely appropriate to the larger concept Biota embraces, as does the artwork always accompanying their albums. This album includes a 32 page full color booklet with artwork, credits and track listings. The artwork includes paintings, drawings, collages and photographs, most of them abstract and in keeping with the band's approach, varying bright colorful images with dark vaguely threatening ones, alongside impressionistic curiosities. It's a beautiful accompaniment to the music, though if I had any quibble it would be that the artwork from the earliest LPs were larger prints, and I wish that each page of the booklet was LP sized. It's a minor complaint, as I've found the images fascinating in the size presented, part of a profoundly interesting package of music, words and image.
Like the label name: Recommended.
---
Fictive Five, The (Ochs / Wooley / Filiano / Niggenkemper / Eisenstadt): Anything Is Possible (Clean Feed)
A tour-de-force of modern creative jazz from the quintet of Larry Ochs on tenor & sopranino saxophones, Nate Wooley on trumpet, Ken Filiano on bass & effects, Pascal Niggenkemper on bass & effects, and Harris Eisenstadt on drums, the familiar history of the musicians and the staggering skill of each bearing out the album's title, in 2 collective and 3 Ochs compositions.
Every now and then an album comes along that perfectly sums up my current interests in a certain genre or approach to music. There are plenty of albums that are great examples of a form, and that attach themselves to your ears, but they don't exemplify or stand apart from other albums in that vein. So it was with great excitement that I finished my first listening of second The Fictive Five album, Anything Is Possible, a grouping of Larry Ochs on tenor saxophone, sopranino saxophone, Nate Wooley on trumpet, Ken Filiano on bass & effects, Pascal Niggenkemper on bass & effects, and Harris Eisenstadt on drums, brought together by Rova leader, West Coast saxophonist Larry Ochs. The first album of this group was on the Tzadik label and was titled The Fictive Five — this album brings the group together in its own right.
Och's orchestration brings together two bassist, both using effects, drums, trumpet, and sax. The dual basses seemingly replace the need for a chorded instrument like a piano, giving space for the two horns. All of the players have worked together in a variety of setting, including Wooley and Ochs from the first album under Ochs name; Wooley & Eisenstadt in the latter's Canada Day group, along with several other albums under each player's names; Niggencamp also a member of Canada Day and on Wooley's From Wolves To Whales album on Aerophonics; Wooley & Filiano members of Stephen Gauci Quartet and Evil Eye, along with Braxton's Trillium projects, and closely related, Taylor Ho Bynum's Enter the Pluset.
Like the first album, titles are dedicated to film makers, a cinematic comparison coming forward (and paralleling some of the work Ken Vandermark has done with dedications to artists). The first, "Immediate Human Response (for Spike Lee)" starts the album with a lurching sax and drum interchange, oddly hesitant as the basses enter first plucking, then bowing, taken over by Wooley's technically impressive and extremely expressive solo, as effect and sax harmonics and percussion effects reduce Wooley to a mumble while the band explores a dark corner. The album continues in this way: full on excited playing and mysterious explorations, building up and bringing down wave after wave of superb free playing and experimental approaches.
The first Fictive Five album from 2015 is a fine album of intense exchange, but it merely points to the direction of the second album, and in general is more tenuous sounding than the confident playing of the latest. One assumes that the energy of the latter album is based on Och's understanding of what the group is capable of, and further fueled by Och's curating Zorn's performance space, The Stone, the week of this recording. Whatever the reason, this rendering of the band is on fire, waking to the possibilities of their interplay, each feeding off the other to build to an intellectual frenzy. It's highly recommended as an exciting avant jazz album that summarizes the strengths of each player into something much greater than a fictional five; in fact, it's quite real and happening!
---

Hat Hut Ezz-thetic series

Squidco is excited to inform you that Hat Hut records will once again be run by Werner X. Uehlinger, and he will be releasing a new series called "ezz-thetics", with similarities to the previous hatOLOGY series. The first set of ezz-thetics releases will be available around the end of April, and Squidco will be distributing them in the US.

Here's what's coming:

Alex Hendriksen & Fabian Gisler: The Song Is You
Hat Hut Ezz-Thetics (ezz-thetics 1003)

Daniel Studer Extended (Studer / Loriot / Zimmerlin / Zoubek): For Strings & Piano
Hat Hut Ezz-Thetics (eez-thetics 1007)

Franz Koglmann Septet (Koglmann / Clark / Arcari / D'Agaro / Turkovic / Pasztor / Herbert): Fruits Of Solitude
Hat Hut Ezz-Thetics (ezz-thetics 1005)

Hildegard Kleeb / Roland Dahinden / Alexandre Babel: Lines
Hat Hut Ezz-Thetics (ezz-thetics 1004)

Jimmy Giuffre 3 (Giuffre / Bley / Swallow): Graz Live 1961
Hat Hut Ezz-Thetics (ezz-thetics 1001)


You can use our Upcoming Releases Page to ask us to email you when each album is available.

Note from Hat Hut on their website

Goodbye
"The cooperation with Outhere ended with the introductions of the hatOLOGY CDs 664 (Anthony Braxton), 721 (ROVA) and 2-722 (Misha Mengelberg) you can find on our website. I like to thank Outhere for the opportunity to produce within three years a total of 36 CDs.

Hello
Hat Hut Records Ltd. established 1975, still owned by Werner X. Uehlinger restarts independently introducing the series "ezz-thetics" in honoring the exceptional LP of George Russell and the great soli of Eric Dolphy on it."-Werner X. Uehlinger

Pending Swiss artists are: Hendriksen-Gisler, Daniel Studer, Judith Wegmann, Kimmig-Studer-Zimmerlin, von Orelli-Meier-Sisera-Suter, Haubensak-Korber & Ensemble Für Neue Musik Zürich.




---




Here are a few other upcoming and pre-ordered items that we should be seeing in stock in the near future:

Laurenzi, Dustin: Snaketime: The Music Of Moondog [VINYL] Astral Spirits

Wick, Jacob / Phil Sudderberg: Combinatory Pleasures [CASSETTE] Astral Spirits

Spires That In The Sunset Rise: House Ecstatic [CASSETTE] Astral Spirits

Warnecke, Pierce / Louis Laurain: Phonotypic Plasticity Astral Spirits

Rumback, Charles (w/ Jim Baker / James Singleton / Greg Ward): Cadillac Turns Astral Spirits

Caloia, Nicolas / Yves Charuest / Karl Fousek : Maps To Hands Astral Spirits





Schindler, Udo / Jaap Blonk: Hillside Talks Relative Pitch

Christine Abdelnour & Chris Corsano: Quand Fond La Neige, Oů Va Le Blanc ? Relative Pitch

Baczkowski/ Lopez/ Corsano: Old Smoke Relative Pitch

Paul Flaherty: Focused & Bewildered Relative Pitch

Eugene Chadbourne, Henry Kaiser: Wind Crystals: Guitar Duets By Wadada Leo Smith Relative Pitch

Pavone, Jessica: In The Action Relative Pitch

Reid, Tomeka / Filippo Monaco: The Mouser Relative Pitch

Gregorio, Guillermo / Brandon Lopez: 12 Episodes Relative Pitch

Bruce Ackley, Fred Frith, Henry Kaiser, Aram Shelton: Unexpected Twins Relative Pitch




---
Last, a couple of updates from last week and this week:
continued...