---
19 Years of Squid:
19 Years! It seems highly unlikely that we have persisted for as long as we have when looking back at the beginning of our history, but here on our 19th Anniversary we find The Squid stronger and happier than ever, swimming with some bigger fishes and having a great time in the sea!
Of course we have only our customers to thank for our age, those who have put faith in us to find interesting music and to get that music to them safely and as quickly as the various post services allow. How we accomplish that has changed over the years, and we hope always to do better. Helping our customers to understand why we carry an album has been a primary goal of the business from the beginning, through our online magazine The Squids Ear, and from the thousands of sounds samples, biographies, cross-references for individual artists, and links to reviews and websites that we provide in our album listings and other resources on the site.
The idea of Squidco pre-dates our actual first order of business by a number of years, the domain name originally registered for free on July 25, 1996 thanks to a friend, who was a graduate student at Columbia University working in their computer lab. So in a sense Squidco is 26 years old today, but the first uses of the Squidco.com domain involved publishing discographic information and selling some used LPs online using a Filemaker web application running on a DSL line. When DSL as a home carrier collapsed a few years later Squidco was temporarily retired, but the concept of running an online record store never left me. So based on our first sales of record as the Squidco you've come to know, we're 19 years old (or, as my mother would have it, we're in our 20th year). However, according to this Reddit discussion, existing as a squid we're possibly closer to 380 human years old (though it's unclear if the cephalopod reference is for a common squidco or a giant squid). All that said, we'll stick with 19 years, and this weekend we'll celebrate that fact!
The music we sell I typically think of as non-commercial; not because it has little commercial potential, but because it is driven by the fascination of music itself and not simply in making a living; it's motivated by the idea of expanding our knowledge of what's possible in sound. That expansion continues to thrive, and as long as there are musicians interested in exploring combinations of sound, and while doing so leaving a physical legacy of their work in record form, we will continue to swim alongside of them, elucidating their work for ourselves and for our customers. This weekend we celebrate incredible music and incredible musicians, the people who understand how important that music is, and the global reach of the humble Squid who attempts to connect it all!
---
A Little Visual Squidco History:
Back in 2002 when Squidco was forming out of the ashes of my online record sale, the ideas behind the Squidco website & logo were in flux. And to be honest, confusingly complicated and underdesigned. My original record sale was nothing more than my (much younger) face and a simple navigation list. It did provide a shopping cart environment, but no payment options outside of mailing me a check, as this was well before PayPal or any other stable online payment option.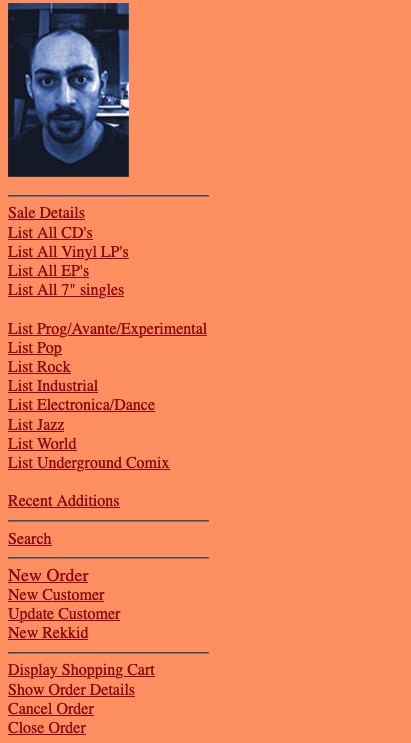 The original Squidco logo was simply HTML text, until I traded some work with an illustrator who provided a few Squidco logo options. For a while we used both of these, which were then adapted into our curent logo:

The original design of Squidco itself left a lot to be desired, being unnecessarily complex and confusing, and using an unusual choice of colors. It wasn't until 2005 that we contracted with a real graphic designer to provide us with the our current navigation design, now tweaked and augmented with many features. Surprisingly, and to the credit of the designer, it has held up very well for the ideas we've wanted to incorporate throughout the site.
not very pleasing
(much) better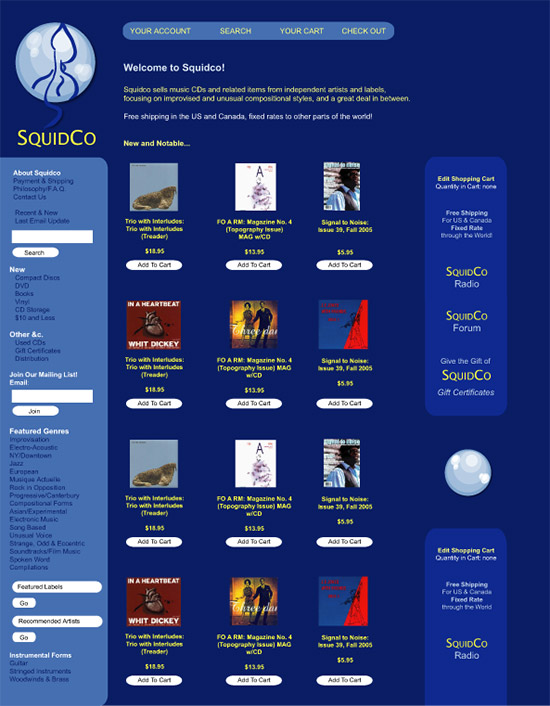 That designer also provided the template for the mailing list that we use, simplifying another complex and difficult to read predecessor.
That's all I'll show for now, but stick around a year and I'll provide a much more illustrative history of Squidco and the many events we've been involved with over the years.
---
Intakt Records: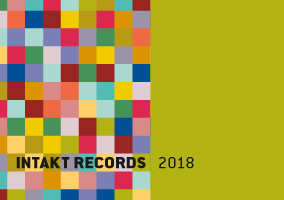 As sometimes happens, international labels move from one US distributor to another, starting a chain of actions on the part of the label, distributor, and Squidco. Such was the case for the Swiss Intakt label, one of the historically great labels covering improvisation that spans free, composed and experimental forms. Personally I've been collecting Intakt since around 1993, starting with Lindsay Cooper's Sahara Dust album, following the great, late bassoonist post-Henry Cow. Once I understood the label's interests I kept an eye out for their releases, becoming an enthusiast of the series of Koch-Schütz-Studer albums they released, and excited to find more Jon Rose albums. As I learned more about the artists they released I came to respect the label's tastes, finding very little that wasn't of interest to me. In 2002 when I started Squidco I began carrying the label through the North Country distributor (surprisingly located close to my hometown of Syracuse). Since then the label has moved a few times, and I've tried to keep up.
However, last year Squidco went through a period of intense distribution activity of our own, around the time that Intakt moved to their latest distributor, a conglomerate of distribution services located in NYC that we had rarely done business with. We reached out and asked to be informed of new releases; at the same time, Intakt began relying on their new distribution partner to handle promotional copies, which previously we received directly from the label. Unfortunately, things didn't work out with our requests as we might have hoped, and busy as we were in 2021, it was late in the year before I realized that we were 17 (!) albums behind with the label. After much discussion with all the partners involved, we have finally rectified the situation, and you will see that we added twelve of those recent Intakts to our catalog at the end of the year, which I'm slowly cataloging and integrating into our larger catalog.
I tell you this in case you were scratching your head about our commitment to the Intakt label. With recent albums from Fred Frith, Barry Guy, Tim Berne, Chris Speed, Irene Schweizer & Hamid Drake, &c &c, I can faithfully tell you that our commitment is strong. How I allowed us to miss these releases is ultimately on me, but I hope you see that the complications of following releases for us is as intricate as the work you do as a collector; sometimes it's hard to keep up! That said, here's some progress I've made in our first week catching up: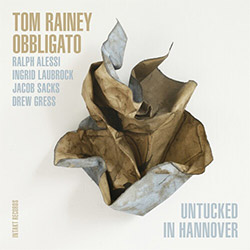 Rainey, Tom Obbligato: Untucked in Hannover (Intakt)
A collection of jazz standards performed with a modern approach to free playing, updating these essential melodies for the 21st century while adhering to their original warmth, from drummer Tom Rainey's exceptional New York Obligatto band of Ingrid Laubrock on saxophones, Ralph Alessi on trumpet, Drew Gress on bass, and Jacob Sacks on piano.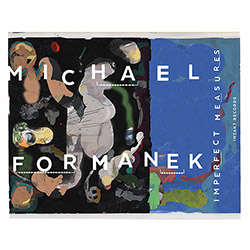 Formanek, Michael: Imperfect Measures (Intakt)
Two decades after his last solo album, Michael Formanek returned to the studio to record these nine solo bass improvisations, each a profound spontaneous composition realizing structures and melodic development that incorporate journeys from abstraction into logical narrative territory as we follow the muse of a one of modern jazz' greatest bassists.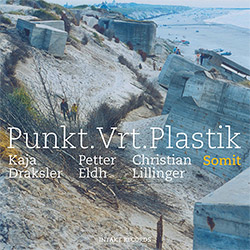 Punkt.Vrt.Plastik (Kaja Draksler / Petter Eldh / Christian Lillinger): Somit (Intakt)
Perhaps one of the most complex piano trios active, Punkt.vrt.Plastik--Kaja Draksler on two different upright pianos, Petter Eldh on bass and Christian Lillinger on drums--explore unusual rhythmic approaches to jazz in exciting exchanges that fracture melody with rapidly veering impulse, always pulling back to reveal the mastery of their inventive playing.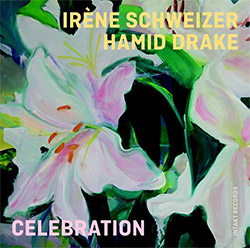 Schweizer, Irene / Hamid Drake: Celebration (Intakt)
Having performed together a number of times in festivals both in Europe and Chicago, the duo of drummer Hamid Drake and pianist Irene Schweizer reveals the familiarity and confidence their history brings to their improvisations, both in intense exchanges and playful melodic passages, as heard in this exemplary 2019 concert at Jazzgallery, in Nickelsdorf, Austria.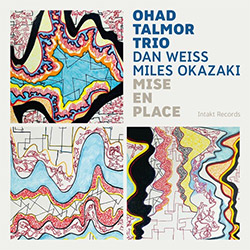 Talmor, Ohad Trio (w/ Dan Weiss / Miles Okazaki): Mise en place (Intakt)
Informed by the traditions of creative jazz; an interest in unusual time signatures; the music of Hinudstani and Brazil; through drummer Dan Weiss the influence of Indian Classical music; through Steve Coleman and Five Element compatriot, guitarist Miles Ozaki, an urban electric edge; making for an album both technically interesting and musically absolutely rewarding.
---
Squidco Publishing Roundup:
Here are the recent updates on Squidco & The Squid's Ear since my last blog entry. As a reminder, you can see new albums listed as they enter our Just In Stock Section, meaning that we physically have an album and are able to ship it with an order, but that we're not satisfied that we've added all the information we can about that release. You can also see recent restocks of previous items at our Recently Restocked page.
January 19, 2022: New Review @ The Squid's Ear: Liz Allbee - Rille (Relative Pitch) by Brian Olewnick.
January 13, 2022: New @ Squidco:
Sara Schoenbeck -Sara Schoenbeck [CD] (Pyroclastic Records)
Courvoisier/Halvorson -Searching For The Disappeared Hour [CD] (Pyroclastic Records)
William Parker (Parker/Carter/Drake) -Painters Winter [CD] (Aum Fidelity)
Friedrichsschwerdt -Gay - Wir Saunawirt [CD] (Euphorium)
Rodrigues/Parrinha/Hencleeday/Valinho -Flat Music [CD] (Creative Sources)
Florian Wittenburg -Kranenburg Tree [CD] (Edition Wandelweiser Records)
Eva-Maria Houben -3 Trios [CD] (Edition Wandelweiser Records)
Aaron Breylin Foster/Luke Martin -Recursive Retent [CD] (Edition Wandelweiser Records)
January 12 2022: New Review @ The Squid's Ear: Assif Tsahar / William Parker / Hamid Drake - In Between The Tumbling A Stillness (Hopscotch Records) by Ken Waxman.
January 11, 2022: New @ Squidco:
Leo Genovese -Ritual [CD] (577 Records)
Ming Bau Set (feat Gerry Hemingway/Vera Baumann/Florestan Berset) -Yakut's Gallop [CD] (Listen! Foundation (Fundacja Sluchaj!))
Whit Dickey/William Parker/Matthew Shipp -Village Mothership [VINYL] (Tao Forms)
Matthew Shipp -Codebreaker [VINYL] (Tao Forms)
Andrea Parkins -Two Rooms From The Memory Palace [CD] (Infrequent Seams Records)
New Old Luten Trio -Short Night [3'' CD] (Euphorium)
Konstrukt feat. Thurston Moore -Turkish Belly [VINYL] (KARLRECORDS)
Vanessa Rossetto/Lionel Marchetti -The Tower (The City) [CD] (erstwhile)
Michael Pisaro-Liu -Revolution Shuffle [2 CDs] (erstwhile)
Simulacrum -Hyperreality [CD] (Evil Clown)
Arcane Device -n28 [2 CDS] (pulsewidth)
Arcane Device -Ruins [CD] (No Rent)
January 10 2022: New Review @ The Squid's Ear: Charlotte Keeffe - Right Here, Right Now (Discus) by John Eyles.
January 6, 2022: New @ Squidco:
Big Bad Brotzmann Quintet -Bambule! [CD] (Euphorium)
Ornette Coleman -New York Is Now & Love Call, Revisited [CD] (ezz-thetics by Hat Hut Records Ltd)
New York Contemporary Five -Copenhagen 1963, Revisited [CD] (ezz-thetics by Hat Hut Records Ltd)
Keith Tippett/Julie Tippetts/Philip Gibbs/Paul Dunmall -Mahogany Rain [CDR] (577 Records)
Josh Sinton -b. [CD] (FiP recordings)
Krokofant w/ Stale Storlokken/Ingebrigt Haker Flaten -Fifth [CD] (Rune Grammofon)
Sex Magick Wizards -Your Bliss My Joy [CD] (Rune Grammofon)
Michelangelo Decorato/Leo Cicala -Thauma [CD] (Creative Sources)
Pascal Battus/Michel Doneda -Miracle [CD] (Potlatch)
Attitude! (Tang/Ishito/Wu) -Pause & Effect [VINYL] (ESP-Disk)
Andrew McIntosh -A Moonbeam Is Just A Filtered Sunbeam [CD] (Another Timbre)
Antoine Beuger -Laments [2 CDs] (Edition Wandelweiser Records)
January 5 2022: New Review @ The Squid's Ear: Paul Dunmall / Mark Sanders - Unity (577 Records) by Marc Medwin.
January 4, 2022: New @ Squidco:
Francisco Mela feat. Matthew Shipp/William Parker -Music Frees Our Souls, Vol. 1 [VINYL] (577 Records)
Cooper-Moore & Stephen Gauci -Conversations Vol. 2 [CD] (577 Records)
Joelle Leandre -At Souillac en Jazz [CD] (Ayler Records)
GULFH of Berlin (Ullmann/Gschlossol/Fink/Leipnitz/Haves) -GULFH of Berlin [CD] (ESP-Disk)
Morton Feldman/Apartment House -Piano and String Quartet [CD] (Another Timbre)
Ryoko Akama -Songs For A Shed [CD] (Another Timbre)
Martin Iddon -Sapindales [CD] (Another Timbre)
Virtual Balboa/Greg Kelley -Petricho [CD] (Creative Sources)
Lillischwerdt -Small Pauer [3'' CD] (Euphorium)
James Bennington Colour And Sound -Everlasting Belle [CD] (ThatSwan!)
PEK Solo -Requiem for Raymond [CD] (Evil Clown)
January 4 2022: New Review @ The Squid's Ear: Roscoe Mitchell - Dots - Pieces for Percussion and Woodwinds (Wide Hive) by Brian Olewnick.
---
December 31, 2021:

My last entry for 2021, as we wind down a year of global frustration complemented with some truly wonderful new albums released through the year.

We all know what a difficult year the globe has faced in 2021, so recorded music has been one of the best reliefs for all the contradictions, uncertainty and confusion. Labels and artists have dug into their histories and back-catalogs to provide listeners like myself excitement and perspective on the music we sell, while current artists have found innovative ways to create and share new concepts and achievements. There is no doubt that we will continue to hear spectacular new music in the year that comes, and I am eager help get that music out around the world.

For Squidco, 2021 has been a very busy year, and a year of accomplishments and expansion. We couldn't have done it without incredible customers, musicians, labels and distributors, all of whom have put great faith in us — I humbly express my gratitude to all of you. I have to smile as I look back at the work our staff has done, at the community who have been part of Squidco for almost 19 years, and at the new people we've met over this year. Each year running Squidco has made me increasingly happy to be part of the music community that we serve, and I look forward to the year ahead!

Here's hoping for a Happy, Safe and Peaceful New Year!




---
Carl Kruger's 2021 Top 21:
Every album that enters Squidco's catalog must first pass through Carl Kruger's capable hands. Of the 954 albums added to our catalog in 2021, each of them was previewed, organized, and taxonomically detailed by Carl, making his top list for the year of notable knowledge and interest. For perspective and contrast, he and I shared only three albums from our top lists for 2021 — the duo of Fred Frith & Ikue Mori; Eric La Casa's Everyday Unknown 4 & 5; and the Evan Parker Electroacoustic Quartet Concert in Iwaki — making Carl's list uniquely interesting to our Squidco customers!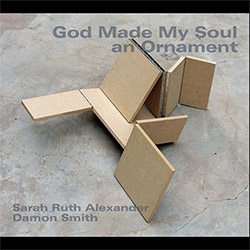 Alexander, Sarah Ruth / Damon Smith: God Made My Soul an Ornament (Balance Point Acoustics)
An unusual duo of double bass, voice, hammered dulcimer, recorder, slide whistle, and various objects, recorded in 2019 between bassist Damon Smith and Sarah Ruth Alexander, freely improvising through nine pieces that show the breadth of creative imagination and powerful technical skills of each; curiously compelling, unpredictable and marvelously diverse.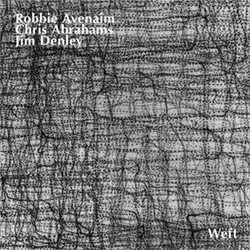 Avenaim, Robbie / Chris Abrahams / Jim Denley: Weft (Relative Pitch)
The Australian trio of percussionist Robbie Avenaim, keyboard player Chris Abrahams performing on a Waldorf Q+ Synthesiser and bass flutist Jim Denley, all compatriots in a variety of groupings, in an extended studio improvisation of spacious textures and rapidly understated percussive elements, aptly titled for the weaving and cris-crossing threads on a loom.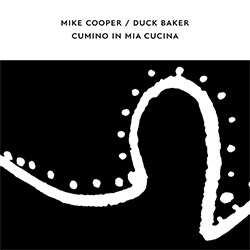 Cooper, Mike / Duck Baker : Cumino In Mia Cucina (Confront)
Having been acquainted with each other for decades but never finding the opportunity to record, improvising American guitarist Duck Baker and British guitarist Mike Cooper finally found their chance in 2010 while both were in Rome, taking two acoustic nylon Spanish guitars into the studio to record these three extended, intertwining improvisations.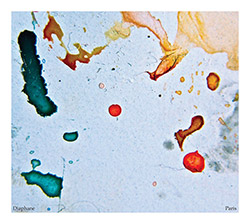 Diaphane (Loriot / Costa / Hubsch / Loher): Paris (Neither/Nor Records)
A live album at the Cafe de Paris in 2019, and the recording debut of the international quartet Diaphane of Frantz Loriot on viola, Raphael Loher on piano, Carl Ludwig Hübsch on tuba and Carlo Costa on percussion, heard here in an extended and fully free improvisation using unusual techniques and objects to extend the pallet of their acoustic instruments.
continued...