June 24, 2022:

I had to laugh at my own comment on the instock section in today's mailing list, stating: "we're never quite caught up"... The pandemic seems to have changed release pacing and this summer has had one of the busiest album release schedule that I can recall. Add to that acquisitions of new labels that we've started working with and we have 66 albums not fully cataloged as I write this, with 19 more staring at me on my desk.

It's keeping us surprisingly busy, and incredibly happy to be listening to so many great new records on many of our favorite labels. We're slowly finishing the complete cataloging of those new albums, including researching all artists and collecting biographies, linking related records, and writing apt descriptions for each. If you're eager to see the new albums, you can find and order them on our Just In page, and of course, you can see our latest progress in catalog on our New Relases page.




---
A Profusion of Cecil:
For me, this week has been about Cecil Taylor, as a solo album from his earliest years was added to our catalog, a powerful addition to the late pianists catalog.
My last update in December was issued when the transatlantic ensemble album Music From Two Continents was issued on Listen! Foundation (Fundacja Sluchaj!), listing a great number of new and reissued Cecil Taylor ablums. The Polish label has released a new album this month, focused on Taylor's solo work. In fact, this album was recorded shortly after Taylor began performing solo, after years in group settings, both his own and under other leaders. The new album, Respiration, clearly demonstrates the excitement this setting was for Taylor, in front of a receptive European audience at the 1968 Jazz Jamboree in Warsaw. A single long improvisation, the concert is a magnificent example of Taylor's creative mind and insanely powerful technical skills. It's a wild ride, and incredibly rewarding.
Shortly we'll add a new ezz-thetics by Hat Hut, Ltd album from the legendary Taylor group of Cecil Taylor, Jimmy Lyons, Bill Dixon, Henry Grimes, Alan Silva and Andrew Cyrille, remastering and reissuing the albums With(Exit) and To Student Studies. I couldn't be happier to see Taylor's back-catalog and unknown concert issues continue to come out, and with such great quality. You can request that we email you when the new ezz-thetic album is available on our upcoming release page.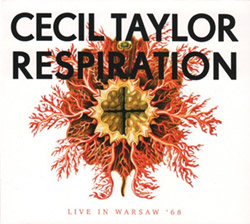 Taylor, Cecil: Respiration (Listen! Foundation (Fundacja Sluchaj!))
An incredible solo concert from legendary New York pianist Cecil Taylor in October, 1968 at the Sala Kongresowa (Congress Hall, Palace of Culture and Science) in Warsaw during the Jazz Jamboree, recorded by Polski Radio and remastered in 2021, an excellent example of the nimble mind and quick technical skills of Taylor's personal take on improvisation; stunning!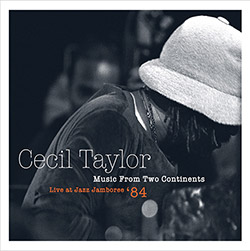 Taylor, Cecil : Music From Two Continents feat Stanko, Rava, Franf Wright, Lyons, Borca, Barker, Hampel (Listen! Foundation (Fundacja Sluchaj!))
A truly wild concert of free jazz from Cecil Taylor's transatlantic orchestra, captured live at the 1984 Jazz Jamboree in Warsaw, Poland, bringing together impressive improvisers from the US--William Parker, John Tchicai, Jimmy Lyons, Karen Borca, Frank Wright, & Henry Martinez--with European Free Jazz leaders Tomasz Stank, Enrico Rava, Conrd Bauer & Günter Hampel.
---
Ordered & Upcoming
I mentioned our backlog before, but that doesn't give you the big picture. Here's what's currently ordered and on the way to us. You can ask us to inform you via email of any upcoming release that you're interested in, with no obligation.
Kidd Jordan, Joel Futterman, William Parker, Hamid Drake: A Tribute to Alvin Fielder, Live at Vision Festival XXIV (Mahakala Music)
Fowler, Chad & WC Anderson: Lacrimosa (Mahakala Music)
Hurt, Kelley / Chad Fowler / Christopher Parker / Bernard Santacruz / Anders Griffen: Nothing But Love, the Music of Frank Lowe (Mahakala Music)
Parker, Christopher / Kelley Hurt: No Tears Suite (Mahakala Music)
Original Mind : You Know When It's Time (Mahakala Music)
Carter, Daniel & Jim Clouse: Playing Retention (Mahakala Music)
Fowler, Chad / Christopher Parker: Park Hill Saudade (Mahakala Music)
Futterman, Joel / Chad Fowler: Timeless Moments (Mahakala Music)
Fowler, Chad / Matthew Shipp: Old Stories [2CDs] (Mahakala Music)
Yamamoto, Eri / Chad Fowler / William Parker / Steve Hirsh: Sparks 2CDs] (Mahakala Music)
Perelman, Ivo, Tim Berne, James Carter, Tony Malaby: (D)IVO (Mahakala Music)
Anderson, Chad: Mellifluous Excursions Vol. 1 - Where You Been (Mahakala Music)

Berndt, John: New Logic For Old Saxophones (Creative Sources)
Hautzinger, Franz / Mazen Kerbaj: Abu Tarek (Creative Sources)
Masing / Schwantke / Lin feat. Kakaduu: Music With Birds [2 CDs] (Creative Sources)
David Boyce / Phillip Greenlief: MYSTERY SCHOOL (Creative Sources)
Rodrigues / Rodrigues / Parrinha / Goncalves / Santos: Quelque chose prie la patience des nuages (Creative Sources)
Rodrigues / da Rocha / Parrinha / Oliveira: Chiaroscuro (Creative Sources)
Sama / Taubenfeld / Jan Willem van der Ham / Petruccelli / Sola / van Es / Ferreira / Govaert / Chientaroli: Owlman (Creative Sources)
Rodrigues / Rodrigues / Parrinha: Sans oublier les arbres (Creative Sources)
Lisbon String Trio & Bruno Parrinha: Dada (Creative Sources)
Kaluza / Steyer / Rodrigues / Rodrigues / Mengersen: Echoes in a further range (Creative Sources)
Rodrigues / Hartyani / Kohn / Lin: Hunter Underwater (Creative Sources)
Rodrigues / Rodrigues / Madeira: Cosmos (Creative Sources)

Guillaume Gargaud and Patrice Grente: Intuition's Days (Open Systems Records)

Olive, Tim / Kayu Nakada: Kanpu (845 Audio)
Tim Olive: Okay Grand Dependable /845 Audio

Jon Rose: State of Play (Recommended Records)
Jon Rose and Chris Abrahams: Peggy (Recommended Records)

Pedro Alves Sousa (Sousa / Simoes / Silva / Abras / Ferrandini): Ma Estrela (Shhpuma)
Landaeus Trio (Nilsson / Landaeus / Aman): A Crisis Of Perception (Clean Feed)
Yaroslav Likhachev Quartet: Occasional Sketches (Clean Feed)
Tarbaby Feat. Oliver Lake (Evans / Revis / Waits) + (Lake / Lawrence / Murray): Dance Of The Evil Toys (Clean Feed)
Ziv Taubenfeld's Full Sun: Out Of The Beast Came Honey (Clean Feed)
Fade In (Calcagno / Barcelona / Luparia): Live Fast, Die A Legend (Clean Feed)
Space Quartet (Toral / Antunes / Morao / Torres) (Clean Feed)
Miha Gantar: Introducing [5 CD Box] (Clean Feed)
Angles: A Muted Reality (Clean Feed)
Flak (Flak / Alves / Rebelo / Rodrigues / Lopes): Magpie Live (Shhpuma)
Juhani Silvola: Wolf Hour Roundelay (Shhpuma)
Lamiee./Dròlo Ensemble: The Deafening Moment Of The Whistle After The Noise (Shhpuma)

Machinefabriek with Anne Bakker: Wisps (Machinefabriek)
Gareth Davis & Machinefabriek: Standards (of Sorts) (Machinefabriek)
Hydra Ensemble: Vistas (Machinefabriek)
Rutger Zuydervelt & Bruno Duplant: Synchronicite (Machinefabriek)

Oliveros, Pauline: Accordion & Voice [VINYL] (Important Records)
Tsunoda, Toshiya: Landscape and Voice [VINYL] (Black Truffle)
Shipp, Matthew Trio: World Construct (ESP)
Jones Jones: Just Justice (ESP)
Byron, Raymond: : Bond Wire Cur [VINYL] (ESP)
Niblock, Phill: Working Touch [USB CARD] FE.org/Touch
---
Squidco Publishing Roundup:
Finally, a few updates since my last entry. You can see new albums listed as they enter our Just In Stock Section, meaning that we physically have an album and are able to ship it with an order, but that we're not satisfied that we've added all the information we can about that release. You can also see recent restocks of previous items at our Recently Restocked page.
June 23, 2022: New @ Squidco:
Cecil Taylor -Respiration [CD] (Listen! Foundation (Fundacja Sluchaj!))
Steve Coleman and Five Elements -Live at the Village Vanguard, Volume II (Mdw Ntr) [2 CDs] (Pi Recordings)
Miles Okazaki (w/ Mitchell/Tidd/Rickman) -Thisness [CD] (Pi Recordings)
David Virelles -Nuna [CD] (Pi Recordings)
Musson/Moore/Brice/Prevost -Under the Sun [CD] (Matchless)
Thollem -Obstacle Illusion [CD] (Astral Spirits)
Tern (Philipp Wachsmann/Martin Hakett/Emil Karlsen) -In AIr [CD] (FMR/Bead)
Action & Tension & Space -Tellus [VINYL] (Rune Grammofon)
Nandor Nevai w/ Tim Dahl/Trevor Dunn -<< The Die Motherfucker >> [CD] (Psykomanteum)
Reinier van Houdt -Drift Nowhere Past/The Adventure Of Sleep [2 CDs] (elsewhere)
Quentin Tolimieri -Monochromes [3CDs] (elsewhere)
Dan Clucas/Kyle Motl/Nathan Hubbard -Daydream and Halting [CD] (FMR)
Hippie Diktat -Fire On [CD] (Self Released)
Sun Ra Arkestra & Salah Ragab -Meets Salah Ragab in Egypt [VINYL] (STRUT)
Forkelid/Carlsson/Hielm -Can't Hide [Vinyl] (FRIM Records)
June 23, 2022: New Review @ The Squid's Ear: Udo Schindler / Ove Volquartz - Tales About Exploding Trees And Other Absurdities (FMR) by Massimo Ricci.
June 21, 2022: New Review @ The Squid's Ear: Thanos Chrysakis (Jason Alder) - Milieu Interieur (Aural Terrains) by Massimo Ricci.
June 21, 2022: New @ Squidco:
Trio Xolo -In Flower, In Song [CD] (577 Records)
Gabby Fluke - Mogul -Love Songs [CD] (Relative Pitch)
Jessica Pavone -...of Late [CDR] (Astral Spirits)
Jessica Pavone -...of Late [CASSETTE] (Astral Spirits)
Thanos Chrysakis/Jason Alder -Milieu Interieur [CD] (Aural Terrains)
Hippie Diktat -Black Peplum [VINYL] (BeCoq)
Richard Comte -Innermap [CD] (Coax)
Richard Comte -Innermap [VINYL] (Coax)
The Residents -WARNING: UNiNC.: Live And Experimental Recordings 1971-1972 [VINYL 2 LPs] (CRYPTIC CORPORATION)
Federico Ughi -ULERS Two [CD] (577 Records)
June 21, 2022: New Review @ The Squid's Ear: Ava Mendoza - New Spells (Relative Pitch) by Marc Medwin.
June 16, 2022: New @ Squidco:
Paul Dunmall/James Owson/Taymotusz Joziwiak -This Time In Beautiful Space [CD] (FMR)
Rick Countryman/Christian Bucher -Once [CD] (FMR)
Raymond McDonald/Robert Burke/Paul Grabowsky/Nick Haywood/Antony Floyd -Dangerous Decision [CD] (FMR)
Udo Schindler/Michel Wintsch -Le Demon de l'analogie [CD] (FMR)
Lasse Marhaug/Jerome Noetinger -Top [CD] (erstwhile)
My Hellgren/Peter Soderberg -Plucked and Bowed [CD] (FRIM Records)
Samuel Rodgers/Richard Scott -Oxygen Room [CD] (Inexhaustible Editions)
Hydra Ensemble (Almeida/Hitz/Gregov/Zuydervelt) -Voltas [CD] (Inexhaustible Editions)
Sergio Armaroli/Steve Piccolo/Elliott Sharp -Blue In Mind [CD] (Leo Records)
Steve Dalachinsky/Federico Ughi -I Thought It Was The End Of The World And Then The End Of The World Happened Again [CD] (577 Records)
June 15, 2022: New Review @ The Squid's Ear: Jessica Pavone - When No One Around You is There but Nowhere to be Found (Relative Pitch) by Marc Medwin.
June 14, 2022: New @ Squidco:
Rempis/Baker/Abrams/Ra -SCYLLA [CD] (Aerophonic)
Ensemble Var (Gustafsson/Lindal/Lindstrom/Nordwall) -VAR [CD] (Confront)
Fave Tucker/Pierpaolo Martino -Melophobia [CD] (Confront)
Musicworks -#142 Summer 2022 [MAGAZINE + CD] (Musicworks)
Domaine Poetique (Jeph Jerman/John Hudak) -Domaine Poetique [BOXSET] (New Forces)
David Myers Lee -Lustre [CD] (pulsewidth)
David Bennett/Vilhem Bromander -Within Reach Of Eventuality [CD] (thanatosis produktion)
Risa Takeda -The Sorcerer's Castle [CD] (Cbzm Records)
Daniel Carter/Federico Ughi -Extra Room [CD] (577 Records)
London Jazz Composer's Orchestra -Zurich Concerts [2 CDs] (Intakt)
June 13, 2022: New Review @ The Squid's Ear: Udo Schindler & Wilbert De Joode - Participation & Interplay (FMR) by Massimo Ricci.
June 8, 2022:

This week is a bit compressed for me, as I had hoped to find a more regular work schedule after last week's Memorial Day Sale event (much gratitude for the great response to our sale, and the nice comments we received from customers during the sale!) colliding with our usual end of month processing. A regular work schedule it has not been, however, as North Carolina pine boring beetles have a different idea for me, and I'll be out much of the rest of the week attending to tree removal and cleanup. Therefore all publishing this week — store updates and Squid's Ear reviews — are appearing by midweek so that our regular mailing list can go out on time Friday. It's always something...

That hasn't stopped the fast flow of new releases coming in the door, and Monday morning I activated 23 new albums in our "Just In" section, and completed cataloging for 20 albums already active in our "New Releases" section. As I write this I have completed our mailing lists, Squid's Ear publishing and uploads for the week. (I've also prepared for a 20% used CD sale starting on Friday, so if you're reading this before Friday you may want to peruse that section to get the advantage.) Before leaving I have also completed purchases for five new Another Timbre albums (including restocking the John Cage "Numbers" box), 12 new Creative Sources albums, 11 new and back-catalog Mahakala Music albums, 2 elsewhere and 1 erstwhile release, a number of Astral Spirits albums, the latest Pi Recordings, and the new Rempis / Baker / Abrams / Ra album on Aerophonics. Phew!

As always, you can ask us to alert you when each album is in stock and ready to ship using our website's upcoming release page.
---
Clean Feed April Releases:
The April drop of 9 new albums on Clean Feed and Shhpuma Records was weighted more heavily towards Portuguese players this time, with 6 of the albums originating from the label's home country. There is no doubt that Portugal is a fertile source of both improvised & jazz music, but also of unusual hybrids and experimental forms of improvised, composed, and experimental forms.
This was true of the six releases listed below, starting with a lyrical albums frp,, Mazam, which plays with melody in variations of rhythmic approaches through incredible technique and humor (as in the track "Bugbear" or "Stubble"). Bassist & composer Hugo Carvalhais turns in a mesmerizingly beautiful album of electric jazz in an often energetic ECM style, but with his own quirks and idiosyncratic asides. Also firmly in a melodic mode is the album of a recently discovered Bernardo Sassetti Trio concert from 2007, a beautiful reminder of the loss of one of Portugal's great piano trio leaders.
On the more adventurous side, tuba player Sergio Carolina, known for his work with Sassetti and his own TGB Trio, turns in a tour de force on an instrument of his own design, the lusophone--a standing tuba based on the Jazzophon--which brings the level "Below 0" in a single, extended, haunting and masterfully deep improvisation. One of my favorite from the set is Mane Fernandes' Enter The sQUIGG, blurring the lines between experimental/electronic forms and jazz, in fragments of each through oddly metered and interesting hybrid drawing multiple listens.
This is not to take away from the three other albums from that release set: The Spanish Liba Villavecchia Trio album Zaidin referencing Thomas Chapin, Ornette Coleman, Roscoe Mitchell & Evan Parker; and the fascinating interpretations of Polish Composers Of The 20th Century from Marek Pospieszalski. Nor the Paris/NY pandemic-influenced collaboration of Flin van Hemmen / Jozef Dumoulin (Too Tall To Sing) on Shhpuma, exchanging sound files of samples, field recordings, percussion, keyboards &c to create compositions of unique sound worlds.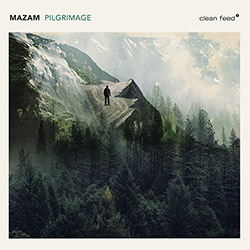 Mazam (Mortagua / Azevedo / Angelo / Costa): Pilgrimage (Clean Feed)
Using simple motives to guide remarkably complex and lyric collective improvisations clearly in the jazz tradition, the Portuguese quartet of João Mortágua on alto & soprano saxophones, Carlos Azevedo on piano, Miguel Angelo on double bass and Mário Costa on drums approach their music with concise expression and a clear exuberance for the music they create.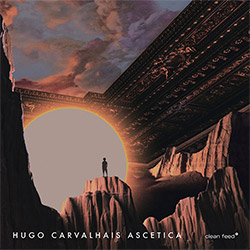 Hugo Carvalhais (w/ Parisien / Mockunas / Almeida / Pinto / Costa): Ascetica (Clean Feed)
Beautifully lyrical compositions filled with a sense of wonder and mystery in the 4th Clean Feed release from double bassist and composer Hugo Carvalhais, improvising in a sextet with Emile Parisien on soprano saxophone, Liudas Mockunas on tenor saxophone & clarinet, Fabio Almeida on alto saxophone & flute, Gabriel Pinto on piano & keys and Mario Costa on drums.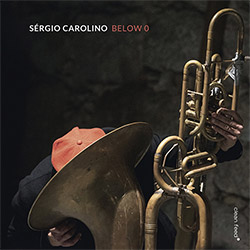 Sergio Carolino: Below 0 (Clean Feed)
Known from the TGB trio and work with Bernardo Sassetti, Portuguese deep brass player Sergio Carolino turns from his typical tuba for a solo album on a new instrument of his own invention--the lusophone--a standing tuba based on the Jazzophon, a trumpet in the shape of a saxophone, here built from parts of frontal bell tubas and demonstrated in an impressive, extended improvisation.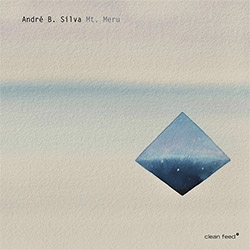 Andre B. Silva: Mt. Meru (Clean Feed)
Known for his The Rite of Trio, guitarist Andre B. Silva releases his 2nd solo album featuring compositions in a chamber jazz mode, including long passages of composed music that open into improvisation, performed with Jose Soares on saxophone, Raquel Reis on cello, Sophie Bernado on basson, Paulo Bernardino on bass clarinet, Andre Carvalho on double bass & Ricardo Coelho on drums & vibes.
continued...