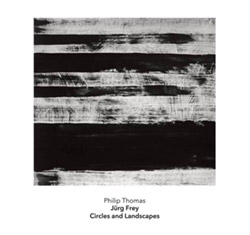 Jürg Frey's compositions can be so elusive, so hard to see, that the intention behind them often seems out of reach. A composer's intention, of course, isn't requisite to getting something from his or her work, but in the hazy overlap of minimalist improvisation and minimalist composition, that overarching feeling of motivation (especially in ensemble work) is often the only, or at least primary, characteristic suggesting a preconceived plan of action.
A clarinetist himself and a member of the Wandelweiser Group of contemporary composers concerned with using silence, Frey's work bears certain resemblances to the master of minimalist composition, Morton Feldman. Both are given to extended pauses, repetition and shifting time. But Frey also works in microtones and gradual glissandoes, creating an ambiguity quite unlike Feldman the formalist's clear (if slow) statements. Such blurring isn't easily achieved on the piano, however, which makes Frey's compositions for that instrument distinctive, and arguably his strongest work.
Circles and Landscapescollects six of Frey's compositions for solo piano, all played with a fragile beauty by the British performer Philip Thomas, who has given the premieres to several Christian Wolff compositions and has worked with the Merce Cunningham Dance Company. The set opens with the briefest of the pieces, dedicated to an early cartographer of contemporary composition. "In Memoriam Cornelius Cardew" is also by far the earliest piece on the disc, dating from 1993. (The other works are all from 2010-2015.) It makes for a fitting preamble to the 74 minutes that follow: short, stair-stepping descents that never reach a bottom. The other small-scale piece here is "Miniature in Five Parts", which is the most formal in meter and tonal structure presented — almost startlingly so.
The remarkable centerpiece of this elaborately set table is the half hour of "Pianist, Alone (2)", a Feldman-esque title for the most Feldman-ian piece presented here. The piece moves easily with no need for tonal conclusions and no resistance to them when they're happened upon.
The album is dominated by circles (the landscapes must be off in the distance), with "Circular Music No. 5", "Extended Circular Music No. 2" and "Extended Circular Music No. 9" comprising about half the playing time. Placed intermittently across the program, their single notes and occasional clusters, primarily in the upper register, seem predictable but will trick you every time, like looking for patterns in a cloud of fireflies.
Comments and Feedback: