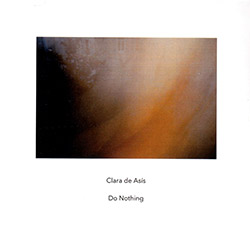 The Spanish-born composer and guitarist Clara de Asis says that she is from a town where 'guitar' is synonymous with 'flamenco'. In her early teenage years, she had guitar lessons for under two years, then continued on her own; she considers herself an autodidact. At university she did a cinema degree but, after graduation, moved to France where she studied electroacoustic music composition for a couple of years. Although de Asis has collaborated on recordings with such luminaries as Noel Akchoté, d'incise, Bruno Duplant and Golem Mecanique, Do Nothing is very much a solo effort, featuring her completely alone, credited with everything from playing guitar and percussion to composition, mixing and even cover photography.
De Asis conceived the album's six pieces as a set, as is indicated by their connected titles — "Do Nothing", "Know Nothing", "Nothing Lasts I", "Say Nothing", "Nothing Lasts II", "Be Nothing" — a list that could have been designed to promote philosophical discussion on the nature of doing, being and nothingness! If the titles suggest a nihilist world-view, that is not reflected in their music which tends to be well conceived and executed, economical and engaging. So the title track, which opens the album and is its longest at twelve-and-a-quarter minutes, begins with a series of single acoustic guitar notes separated by gaps of roughly fifteen seconds, long enough for each note to resound, fade away, be savored and leave the listener anticipating the next one; gradually, the sounds become more complex, firstly with two notes being sounded close together, then three and then with ringing percussive sounds (most probably from a Tibetan bowl) being interjected, until eventually the piece has evolved into an enthralling call-and-response dialogue between guitar and percussion, without any silences. As effective is the ten-minute "Say Nothing" which again pairs guitar and ringing percussion — bowed metal, this time; it is different enough to avoid being a reprise of "Do Nothing" but is recognizably from the same source.
Markedly different but just as typical are the two shortish takes of "Nothing Lasts" which have durations within seconds of one another and are unmistakably versions of the same piece; the two employ different sounds — maybe agitated springs in the first, a scraped snare drum in the second — but in each case the sound is repeated and overlaid to create a dense soundscape that is easy to listen to and repays repeated playing. The same applies to the entire album, which has a pleasing consistency to its sounds and concepts. It demonstrates that de Asis has a great deal to offer and whets the appetite for further installments.
Comments and Feedback: