Fred Frith/Joelle Leandre/Jonathan - Tempted to Smile

 (Spool)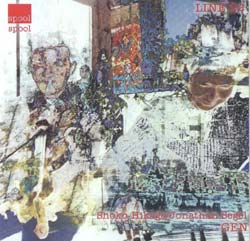 Apparently I missed the memo about Jonathan Segal. As a part of Camper Van Beethoven, he helped to create the snot-nosed pop (not to mention the now overwrought practice of smashing unlike terms with a common syllable together to create band names) that later groups like Ween and Primus would drive into the ground. But since then I've only come across his name on occasional collaborations with Eugene Chadbourne (including a fantastic and pretty much unnoticed cd, Psychadelidoowop that came out in 2001 on Magnetic, the label Segal founded with CVB mate Victor Krummenacher).
Still, that was pop (yeah, yeah), and however good people were supposed to find out about Segal the improvisor, I missed it. But two discs from Ontario's Spool show that he's been up to something very else. On one he teams up with west coast koto player Shoko Hikage, and on the other a remarkable trio with two of Europe's finest string players, guitarist Fred Frith and bassist Joelle Leandre, both to quiet and expectation-defying results.
GEN makes no bones about the way the violin and koto are played. It's 16 tracks and some 60 minutes of plucking and bowing, a restrained but physical record. The teeny little sounds rarely are enough to wrap your ears around. There's not enough there to follow the lines of reasoning, but the playing is too quick to call atmospheric. Instead, perhaps, call it pleasantly mystifying.
Tempted to Smile is similarly soft and fleeting. Here Segal takes advantage of two fine improvisors being in residence at Mills College in Oakland for a great set that not only doesn't behave as a string trio, but doesn't even sound especially like its members. They scratch across and fall atop their instruments for much of the eleven tracks. The playing is interesting, but there's little of Frith's usuals phrasings and less of Leandre's low bowing and resonant singing. The disc is, in fact, so similar to GEN in feel that it is hard not to imagine Segal as the leader on both (although composer credits are shared on each). If he is in fact responsible for pulling these sessions together, then full credit for bold direction. If the discs tend to float by without demanding attention, there's still a spirit here worth noticing.
Comments and Feedback: