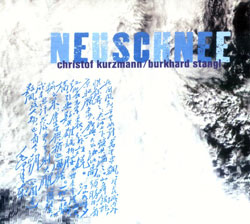 When Burkhard Stangl and Christof Kurzmann's duet showed up on Erstwhile in 2000, it was a breath of — well, fresh air wasn't needed, the air was far from stale — but it was a surprising breath of familiar air. It was only the eighth release on the label, and a disc by Loren Connors was already in the catalogue, but even still the sound of acoustic guitar was as unexpected as the pairing of guitar and electronics was unusual.
Much water has gone under the electroacoustic bridge since then, but the Kurzmann / Stangl duo known as "schnee" still manage to surprise, even while producing music so thoroughly satisfying that shock value is certainly not on its agenda. Their second release, schnee_live, recorded at Erstwhile's 2004 Amplify festival, is a 33-minute version of Prince's "Sometimes It Snows in April," slowly opening into the pop ballad as audience members (including guitarist Margareth Kammerer) sing along.
Pop ballads have become a fascinating part of Kurzmann's work, with Schnee and elsewhere. His duo Kommando Raumschiff Zitrone with clarinetist Kai Fagaschinski did a striking meditation on Roberta Flack's "The First Time Ever I Saw Your Face" on the album of the same name, and Fagaschinski and Michael Thieke (his partner in the clarinet duo The International Nothing), along with Kurzmann and Kammerer christened Erstwhile's Erstpop series as The Magic ID. Schnee now returns with neuschnee (ErstPop002), delivering a gracefully unbalanced CD that again uses popular as part of its staging ground.
The duo's instrumentation has expanded. Kurzmann — perhaps influenced by the company he's been keeping — is also heard on clarinet, and Stangl plays piano and vibraphone in addition to guitar, but the Schnee sensibility is still very present. Delicate, musical sounds are submerged in obtrusive, electronic tones. Hi and low fidelities co-exist peacefully, or at least willfully. Sounds are always swaying between working and not working together. There's a strange mix of struggle and ease in the way Kurzmann and Stangl play together.
The pop portion of the program is reserved for the end, and suffice to say the treatment is new, even clever, bordering on being (but not quite needing to be) a punch line. It's another testament to the duo's creativity that they've created an ending which could be spoiled by talking about it.
Comments and Feedback: