Hampton, Lionel Orchestra 1958

The Mess Is Here, Revisited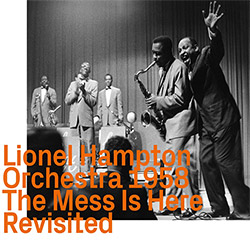 An influence on the next generation of small band and bop players, vibraphonist and Band Leader Lionel Hampton's programs included both crowd-pleasers and sophisticatedly complex sections, heard here in this 1958 studio recording from Stuttgart, Germany while touring Europe, Ghana and Israel with his exceptional band expanded by three German jazz musicians.


Sample The Album:


product information:

Personnel:


Lionel Hampton-vibraphone, piano

Eddie Williams-trumpets

Art Hoyle-trumpets

Eddie Mullens-trumpets

Dave Gonzales-trumpets

Macky Kasper-trumpets

Louis Blackburn-trombone

Wade Marcus-trombone

Larry Wilson-trombone

Leon Zachary-alto saxophone

Bobby Plater-alto saxophone

Andy McGhee-tenor saxophone

Gerald Weinkopf-tenor saxophones

Lonnie Shaw-baritone saxophone

Werner Baumgart-baritone saxophones

Lionel Hampton-vibraphone, piano

Oscar Dennard-piano

Billy Mackel-guitar

Julius Browne-bass

Wilbert Hogan-drums

Cornelius Pinocchio James-vocals

Click an artist name above to see in-stock items for that artist.
---


UPC: 752156113829

Label: ezz-thetics by Hat Hut Records Ltd
Catalog ID: ezz-thetics 1138
Squidco Product Code: 32401

Format: CD
Condition: New
Released: 2022
Country: Switzerland
Packaging: Cardboard Gatefold
Recorded in Stuttgart, Germany, on January 5th, 1958.


Descriptions, Reviews, &c.
"Lionel Hampton (1908-2002) did indeed write jazz history. He was a virtuoso, a harmonically, melodically and rhythmically highly gifted player. As a young musician he was already regarded as one of the best drummers. In 1930 he introduced the vibraphone into jazz and immediately became perhaps the most important protagonist of this instrument. As a pianist, he cultivated a virtuoso two-finger technique like no one else. Which didn't prevent him from using all ten fingers in a jam session in Lucerne, even playing in Thelonious Monk's style. Aware of his weaknesses as a vocalist, he always toured with a singer. One of his recipes for concerts was to play to both a demanding and a less critical audience. I remember he would present the musically interesting pieces first followed by the ones where people clapped along and climbed on the chairs. As soon as he started playing "Hey Baba Rebop" or something similar after exciting opening numbers, we knew it was time for the pleasant part, which was less interesting to us young jazz hungry listeners.
But Hampton also had charisma, a talent for exciting crowds and a sense of showmanship. And last but not least he had a knack for financial matters. Unlike the frequent fates of ostentatious big earners who ended up in welfare once the cash flow ran dry, he took care of his assets, thanks in part to his wife Gladys, who was sometimes cursed as a notorious penny-pincher. Hampton took care of others, too; for instance he had social housing complexes built for less fortunate Afro-Americans.
In 1953 Lionel Hampton came to Europe for the first time. The tour was scheduled for three weeks, but then extended to three months because of the overwhelming success. Wherever they played, the band filled the largest halls. The ecstatic behaviour of the audience in Amsterdam even gave rise to suspicions of witchcraft. From then on, Hampton and his band returned to Europe almost every year. Here, the musicians were treated like artists or kings, quite different from the USA.
On 25 December 1957, the Hampton Band came to Europe again. The first concert took place on Christmas Day in Hamburg. Hampton played more concerts in Germany, including one in Stuttgart where the present studio recording was made, before he went to Switzerland in mid-January 1958, performing in Bern, Basel, Zürich, Baden, Luzern, St. Gallen, La Chaux-de-Fonds, Genève, Lausanne, and St. Moritz. In February the band toured France and Belgium. After a short stay in Algeria they went to Ghana and Israel in March, returning home to America in April.
As usual, the Hampton Band of 1957/58 consisted of long-term members along with young talents who one by one would soon leave the band to start their own careers. This time those young talents were the pianist Oscar Dennard, the tenor saxophonist Andy McGhee and the vocalist Cornelius "Pinocchio" James.
Born in 1928, the pianist Oscar Dennard joined the Hampton Band in September 1955, replacing Dwight Mitchell. He was very gifted and had a style of playing all his own. After he left the band in 1958, he was a member of the Idrees Sulieman Quartet until his premature death in 1960. Older music lovers from Switzerland remember the 1960 concerts of this quartet - then under the band name New York Jazz Quartet - at the Africana jazz club in Zürich and the Glock restaurant in Basel.
The tenor saxophonist Andy McGhee, born in 1927, started playing with the Hampton Band in November 1957. Stylistically, he was particularly influenced by Lucky Thompson. Thanks to his perfect understanding of harmony he extended the band's style by introducing modern elements. He was a wonderful melodist. In 1964, McGhee switched from playing with Lionel Hampton to Woody Herman. He was a professor at the Berklee School of Music from 1966 onward and years later toured Europe several times, including Switzerland. McGhee died in 2017. For more information about Andy McGhee, visit https://www.jazzdocumentation.ch/mario/mcghee.pdf.
Cornelius "Pinocchio" James was born in Georgia in 1927 and studied music in Cincinnati. His first recordings are from 1951 and 1953, for instance with Todd Rhodes. In 1957 he joined Lionel Hampton, playing in his band until the end of his career around 1966. Although largely unknown, he can hold his own against the better known Jimmy Witherspoon thanks to his excellent voice.
For these studio recordings from Stuttgart the band was expanded to include the following ad-hoc German musicians: trumpet player Macky Kasper, tenor saxophonist Gerald Weinkopf and baritone saxophonist Werner Baumgart. Macky Kasper played solo.
The repertoire of this record includes two well-known pieces, "Hamp's Boogie Woogie" and "Flying Home". No concert would be complete without "Flying Home". The original solo from 1942 by the tenor saxophonist Illinois Jacquet was performed at almost all concerts from the 50s and 60s. "Confirmation" contains the only known arrangement by Oscar Dennard. In "'Round About Midnight" we perhaps hear the most beautiful solo by this pianist. The other highlights are geared to Hampton as a soloist on vibraphone: "Our Love is Here to Stay", "My Prayer" and "Almost Paradise". Note here the accompaniment by the ensemble, which couldn't be more impressive. It would be great to know who penned the excellent arrangements. Moreover, in these rather slow pieces the rhythm section's playing is rich in variety and never boring.
"The Mess is Here" is a riff number, interspersed with solos by Bobby Plater (alto sax), probably Eddie Williams (trumpet) and at the end Macky Kasper (trumpet). Here, it is surprising how unprecise the trumpets sound in certain passages.
"Our Love is Here to Stay", "My Prayer" and "Almost Paradise" are three reflective pieces completely tailored for Lionel Hampton and his vibraphone. Hampton shines here with his inspiration, his lightness and virtuosity, supported by the ensemble's masterful performance.
"Move", a fast piece, is typical of Hampton: a breezy mix of tunes which have nothing to do with each other. Here the entire improvised part is played over "Undecided" in the A section and over "Confirmation" in the B section. The only exception is the eight bars of "Move" with a different chord structure. We hear solos by the great Oscar Dennard (p), then Lionel Hampton (vb), Art Hoyle (tp) and Eddie Williams (tp), followed by a chase chorus with the aforementioned two trumpet players, with Art Hoyle starting. The tune ends with a long solo by Leon Zachery (as).
"Flying Home" begins with blues improvisations by Hampton (vb), before he introduces the theme and then goes on improvising. After the obligatory solo by Jacquet, the tenor saxophonist Andy McGhee takes the stage and keeps the tension high for four choruses.
"'Round About Midnight" might be called the highlight of the whole session. After the theme, which is introduced by Hampton (vb), he and Dennard (p) take turns as soloists. Dennard in particular captivates the audience with his inimitable melodies.
In "Confirmation", arranged by Oscar Dennard, you hear the soloists Oscar Dennard (p) and Hampton (vb), and toward the end Dennard (p) again. Here Hampton's playing almost pales beside the rhythmically more exciting Dennard.
"New Orleans Woman" is a piece by Jimmy Witherspoon from 1950. We first hear a vibraphone solo by Hampton and then the gripping vocalist Cornelius "Pinocchio" James.
"Hamp's Boogie Woogie", with piano solos first by Dennard and then by Hampton, is so appealing not only on account of it being one of the ever-popular boogie-woogies but also because Hampton shows off his virtuoso two-finger technique on the piano."-Mario Schneeberger (translated by Friederike Kulcsar)
This album has been reviewed on our magazine:




The Squid's Ear!

Artist Biographies

Track Listing:


1. The Mess Is Here 3:20

2. Our Love Is Here To Stay 3:29

3. My Prayer 4:54

4. Confirmation 4:14

5. Almost Paradise 4:08

6. Move 5:35

7. Flying Home 7:05

8. 'Round About Midnight 5:01

9. New Orleans Woman 3:32

10. Hamp's Boogie Woogie 4:12

Related Categories of Interest:


Hat Art
Improvised Music
Jazz
Melodic and Lyrical Jazz
Large Ensembles
Jazz Reissues
New in Improvised Music
Recent Releases and Best Sellers
Hat Hut Masters Sale

Search for other titles on the label:
ezz-thetics by Hat Hut Records Ltd.
---

Recommended & Related Releases: