Avenel, Jean-Jacques / Siegfried Kessler / Daunik Lazro

Ecstatic Jazz (Crypte Des Franciscains Beziers 12 Fevrier 1982)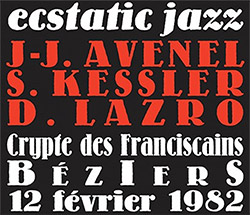 Referencing the collective NY Loft scene of the 1980's, the trio of Jean-Jacques Avenel on bass, Siegfried Kessler on piano, keys & ring modulator and Daunik Lazro on alto sax & tuba sax, are heard in a Béziers Jazz Action concert recorded in the crypt of a Franciscan theater, in two suites of collective improvisation, the 2nd adding unusual electronics from Kessler.


Sample The Album:


product information:

Personnel:


Jean Jacques Avenel-contrabass

Siegfried Kessler-piano, electric piano, clavinet, ring modulator, flute

Daunik Lazro-alto saxophone, tuba saxophone

Click an artist name above to see in-stock items for that artist.
---


UPC: 3491570055625

Label: Fou Records
Catalog ID: FR-CD 55
Squidco Product Code: 33963

Format: CD
Condition: New
Released: 2023
Country: France
Recorded at the Franciscan Crypt, in Beziers, France, on February 12th, 1982, by Christian Pouget.


Descriptions, Reviews, &c.
"Ecstatic jazz is a term that appeared in the wake of David S. Ware, William Parker, Charles Gayle, Joe McPhee, Sabir Mateen, Daniel Carter and their comrades, at least twenty years ago, to designate this resurgent wave of African-American improvisers who continued to express themselves against all odds their highly energetic vision of free jazz. Free jazz, New Thing, Great Black Music, improvised music etc... = ecstatic jazz.
At this time, saxophonist Daunik Lazro published Outlaws in Jazz with Jac Berrocal, Dennis Charles and Didier Levallet and has always placed himself aesthetically on the side of "ecstatic jazz", while becoming a pillar of free collective improvisation. European" more oriented towards sound exploration without a net, belching short melodic fragments in fusion of which he shifts the accents and the emission of each note before tinkering with the timbre and this from the beginning of the 70s. Moreover, Lazro made himself known at this distant time on alto sax alongside double bassist Saheb Sarbib, with drummer Muhammad Ali and saxophonist Frank Wright, when the latter, then residents in France, exploded on stage with each of their "ultra-expressionist" appearances 100% ecstatic jazz (Center of the World). Subsequently, he extended his approach to the baritone sax and recently to the tenor.
As we can hear in this improvised concert from 1982, Daunik Lazro is one of the most keen European saxophonists (alto, here) in free music: he sets its mouthpiece on fire, squeezing the column of air by blowing very hard, with an exacerbated, burning sound. In these liner notes, Christian Pouget, who recorded the concert, cites Ornette Coleman, whom Daunik well deserved and inherited. I remember an interview from that time where Daunik declared his fascination with "energy" music, citing Evan Parker, Peter Kowald and also Jackie Mc Lean. (And bits of Dolphy pop up here).
From the first minutes, the prompter pirates a standard by turning it upside down, fragmenting and lacerating the Parkerian material of modern jazz with vitriolic bites and a projection of the saturated, white-hot sound. A bit logical on his part to stir up scraps of modal bop in the presence of double bassist Jean-Jacques Avenel and pianist Siegfried Kessler, who have now passed away. For more than twenty years, Avenel was one of Steve Lacy's closest companions until the latter's death in 2004 and frequently accompanied pure jazzmen like Alain Jean-Marie.
Kessler, who died in 2007, was then the official pianist in Archie Shepp's quartet and had solid credits in the modal hard-bop jazz scene while having played in the memorable Perception, a historic French free group with Didier Levallet, Yoshko Seffer and Jean My Truong. This JJ-SK-DL trio from February 12, 1982 is in fact the meeting of two duos: Lazro-Avenel and Kessler - Lazro. Jean-Jacques features on the B side of Daunik's debut LP for Hat Hut, The Entrance Gates of Tshee Park, with the A side devoted to a solo performance by the saxophonist on alto sax. A little later, Hat Musics published Eros, by Lazro and Kessler as a duo.
Even if it is not strictly speaking a "real group" at the start (they played three times as a trio), the three musicians combine their efforts with a real sense of listening and above all with an energy caustic, constant madness, unmistakable musicality, creating sequences where each person develops their music, proposes ideas to play and reacts spontaneously to the other two with a real "about" and inventive dialogues which are renewed successively. Or by leaving the bridle on the neck of the partner alone or in a duo.
The two parts of the concert are subdivided into seven sections: 1a - 4:03, 1b - 13:33, 1c - 13:45 and 2a - 7:42, 2b - 9:14 2c - 12:33 and 2d - 9: 33, or more than 70 minutes. Noteworthy is Avenel's masterful introduction to the double bass and his powerful pizzicatos, a complex and majestic walking bass (Part 1a). Creating momentum, his intervention puts the prompter into orbit, ravaging a standard that is difficult to recognize. In 2c, J-J A opens the improvisation with a wonderful, powerful and very fine solo on which Lazro places himself after three minutes to shoot on sight with the column of air, the mouthpiece and the bent tube of the vibrating and horny viola to the maximum.
Elsewhere, after having energetically played a transverse flute (!) in a duet with a supercharged Avenel, the pianist straddles the clavinet equipped with the ring modulator delivering a true stripping Sun-Raesque anthology piece. Siegfried leads Lazro into the dance to have fun even harder, more intensely, to the point of trumpeting to frighten the kings of the jungle (2b). It's absolutely Dantesque. You have to hear Lazro screaming at the pinnacle of the Aylero-Brötzmannian saga of the great days and juggling each melodico-rhythmic fragment like a madman by altering the accents, the cries, the pitch of the notes, the dimension of each sound element... A heartbreaking virulence stubborn... more than that you die. Imaginary folk with a specific style and intervals. And below, the imperturbable whirring of the double bass, the strings oscillating like the ropes of the Medusa in a black sea under the pressure of JJ Avenel's fingers.
The level of performance at least equals Roscoe Mitchell's fabulous solo at Willisau in 1975 as reproduced on the double LP Noonah (Nessa), except that Lazro infuses a raw energy of explosive intensity comparable to that of the Evan Parker of the Saxophone Solos - Incus 18 (1975 reissued on CD by Chronoscope and Psi on vinyl by otoroku) and the intrepid Brötzmann in the company of a Bennink in a trance (Balls, Cousscouss and The End) or the 'Albert Ayler from the ESP albums, while maintaining a sense of structure in these interventions!! . OOL'YAKOO!!!
But in addition, the other two are not content with being a "back-up" band, a tandem of accompanists and "water carriers", they charge on the front line. Just listen to the enormous bass solo that stands out from the trio in 2c and the intrepidity of JJA's outbursts that overflow at the top of the hill. And the pianist is not content with being a virtuoso: Kessler accentuates the rhythm of his arpeggios tilting a zest towards the spirit of pianist Chris Mc Gregor and we then hear Lazro repeating fragments of melody with a feeling close to the South African Dudu Pukwana blowing harder and harder, saturating the sound (2). He will even immediately play measures in Slendro Javano-Balinese.
This innate sense of aesthetic suggestion is actually very subtle. This is what distinguishes the indubitable artists from the doers and the pretentious. These musicians have no agenda, they candidly give us their quirks and the fruits of their playful memories to combine all the hidden or glimpsed spells in a flash without looking in the rearview mirror. Return to the thread of improvisation: the chanted complaint then becomes a heartbreaking cry, an infernal anthem. The bassist then gets extremely active in a criss-cross of devilish fingerings as if he were stirring a cosmic sanza!? You don't find them - you won't often find them at J-J Avenel. Further on, Siegfied repeats a short cosmic refrain, leaving the Daunik in his trance. It will end in the heartbreaking high notes of the prompter who will then fade away, playing discreetly so that his colleague can be heard.
All the interest of this kind of free improvisations (we think of the Brötzmann - Van Hove - Bennink trio, decried by a purist Derek Bailey before launching his Company project himself) on the principle of the Spanish inn where everyone brings "his ideas" even if they show notable differences in "style", experience, background, without fear of possible quotations or allusions, contributes to making the terrain uneven, contrasted by finding imaginative repartee which creates surprise or charm unpredictable. We must also avoid the commonplace and easy effects in a patchwork maquis, underpinned by an original vision and already pointing towards what could happen a little or much later.
In this concert, we navigate the convergence - divergence of three currents, three experiences, three personalities, avoiding the pitfalls, the "phone calls", the co-imitation, the hand signals, the good manners and simulation. We are on the same boat by bringing to the common flow our own intimate music, our deep personality and our assumed madness. There's no way to get bored, you have to continually challenge yourself and take up the challenge. By listening attentively, we are finally stunned by this unstable balance where everyone seems to be pulling the rug for themselves, while we are in total sharing. And this is how immediate action, collective music is shared and felt by the very people who play it here. It's their music and especially not yours. "-Jean-Michel Van Schouwburg, via google translate

Artist Biographies

Track Listing:


1. 1ere Partie - 1a 4:04

2. 1ere Partie - 1b 13:03

3. 1ere Partie - 1c 13:52

4. 2eme Partie - 2a 7:43

5. 2eme Partie - 2b 9:15

6. 2eme Partie - 2c 12:33

7. 2eme Partie - 2d 9:34

Related Categories of Interest:


Improvised Music
Jazz
Free Improvisation
Collective Free Improvsation
Electro-Acoustic
Electro-Acoustic Improv
European Improvisation, Composition and Experimental Forms
Trio Recordings
New in Improvised Music
Recent Releases and Best Sellers

Search for other titles on the label:
Fou Records.
---

Recommended & Related Releases: