Pavone, Jessica

Clamor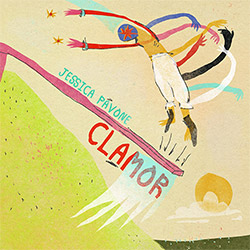 With a septet of women improvisers and contemporary performers, composer and violinist Jessica Pavone's long-form collective improv compositions are titled after innovations made by women throughout history to circumvent obstructions to their freedoms, revealed through string and bassoon orchestration that balances harmony, dissonance, drone and disruptive experimentation.


Sample The Album:


product information:

Descriptions, Reviews, &c.
"Clamor rethinks the notion of 'women's work' as a space for both collaboration and singular voice. Just as our ensemble is limited and enabled by the written score, so might be individual enunciations of how gender norms limit agency. Clamor utilizes a collective, improvisational vision that prioritizes an intentionally fluid style by employing indeterminacy, navigated by the performers via time-based scores. These principles are balanced with metered notation to shape the overall form of the pieces, reflecting circumventing obstructions to one's freedoms. The alternating music notation styles mirror these restraints and solutions. Through the open spaces, the musicians re-create the compositions together each time they perform, establishing a collaborative relationship between the individual musician and larger group performance.
Clamor's movements are titled after innovations made by women throughout history to circumvent obstructions to their freedoms. "Neolttwigi" utilizes rhythms representing the 17th-century Korean standing seesaw invented by women who could not freely go outdoors to provide a glimpse of the scenery beyond their property walls. Nu Shu honors the secret language created and used exclusively by Chinese women forbidden to go to school like their brothers. Nu Shu features the improvising soloist in dialogue with the ensemble.
"Bloom" is named after bloomers, which Amelia Bloom designed during the 1850s Victorian dress reform.
"Nu Shu" features bassoon soloist, Katherine Young, attending to her talent for improvising within a collaborative context. Young is a composer and sound artist who has developed a unique language for bassoon. The movements to feature her have built-in moments of gently structured spontaneity that attend to her original voice."-Out Of Your Head Records
"Intrepid composer and violist Jessica Pavone continues to forge an intensely personalized path with Clamor, the latest addition to this fascinating creator's discography. As if consciously designed to frustrate pigeonholers, the new release carves out a distinctive genre space that pulls from multiple areas without settling into any one in particular. Elements of free jazz, avant-classical, and even perhaps punk are part of the album's heady mix, which for the sake of simplicity might simply be labeled avant chamber music. As has been suggested elsewhere, the music Pavone makes might be mentioned in the same breath as that associated with Tony Conrad, Henry Flynt, and LaMonte Young, if only for providing some hint of its character. Certainly the raw, visceral bluster generated by Pavone and company feels far removed from the conservatory-trained finesse of a conventional classical ensemble.
Pavone's sensibility extends to the instrumentation of her latest string outfit, a sextet comprising two violins (Aimée Niemann, Charlote Munn-Wood), two violas (Abby Swidler, Pavone), cello (Mariel Roberts), and double bass (Shayna Dulberger). Those familiar with her work won't be surprised by the presence of bassoonist Katherine Young as a soloist on two of the four tracks. As articulated by Pavone, a very lucid methodology guides the players. Meditating on the notions of 'women's work' as a vehicle for both individual and collective expression and the way that "gender norms limit agency," Clamor couples indeterminacy with time-based scores and notation. Such aspects bring an overall form to the pieces, and consequently improv-driven expression must be reconciled with the structures in play. Even so, the openness of the design allows each performance to be unique. The ones here, then, captured by Marc Urselli at EastSide Sound in Manhattan in 2023, document but one iteration of an unlimited number.
In keeping with the album concept, the work's four movements are titled after strategies adopted by women throughout history to circumvent obstacles implemented to curtail their freedoms. "Neolttwigi," for example, refers to a seesaw created by seventeenth-century Korean women that enabled them to glimpse the world beyond their property walls when not allowed to freely roam outdoors. "Nu Shu" likewise has to do with oppression in referring to a secret language created and shared by Chinese women who were not allowed to attend school as their brothers did.
Arresting harmonic combinations and note clusters tickle the ear throughout, the players in no way hesitant to blur the lines separating consonance and dissonance. Up first, "Neolttwigi" builds on the historical reference by applying a seesaw-like approach to its lumbering rhythms and emphatic melodic figures. Tension mounts in the use of glissandos that alter the harmonic relationships between instruments, though the material eventually reaches a state of ecstatic resolution at its end. Young's at the forefront of the two-part "Nu Shu," her foghorn-like, no-holds-barred improvisations adding a blistering extra dimension to the keening strings-based performances. Each of the album's tracks advances through multiple episodes, and the first part of this one's no different, moving as it does from a wild unaccompanied bassoon solo through a plaintive string section and then agitated noise rustlings of alien character. With the bassoon wailing at an extremely high register, Pavone solos savagely during the work's second part before the music enters a freeform exploration that feels, in part, as if it's venturing underwater. Like a gospel hymn emanating from some nineteenth-century country chapel, "Bloom" slowly blossoms from a delicate intro to a full-group drone meditation spiked by razor-sharp harmonics until it comes to rest amidst gentle flutterings. In this movement and in the three before, it's impossible to know what direction Pavone's music will take, which is, when all's said and done, one of the best things about it. Predictable is definitely not a word one could use to describe the work she's doing."-Textura
Also available as a Vinyl LP.
Get additional information at Textura.org

Artist Biographies

Track Listing:


1. Neolttwigi 11:49

2. Nu Shu, Pt. 1 11:24

3. Nu Shu, Pt. 2 9:21

4. Bloom 12:52

Related Categories of Interest:


Improvised Music
Compositional Forms
Chamber Jazz
Stringed Instruments
Septet recordings
NY Downtown & Metropolitan Jazz/Improv
Staff Picks & Recommended Items
New in Improvised Music
New in Compositional Music
Recent Releases and Best Sellers

Search for other titles on the label:
Out Of Your Head Records.
---

Recommended & Related Releases: