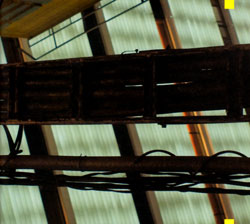 Supergroups run the risk of being less than the sum of their parts. Be it Eric Clapton, David Murray or electro-improv superstars like Christian Fennesz and Jim O'Rourke, there's always a chance that the promise ends up held too high. Which seems to be the case with the pair's latest outing with Mego jefe Peter Rehberg (aka Pita). The hour-long studio recording (from October, 2009) is certainly interesting enough, even if it rambles a fair bit and takes a while to get anywhere. The three electronicists make lots of sounds, and to their credit always seem to flow together quite well, but for all its energy it doesn't seem to find momentum until the final third.
Things have changed in the eight years since the trio's last release, The Return of Fenn O'Berg. Avant electronica doesn't favor glitch the way it once did, and the charm of referential sampling has waned. The three musicians have also, of course, grown over the years, and In Stereo finds them creating more lush and expansive soundscapes. There's no Chicks on Speed cover art this time, and once you strip away the cellophane and sticker, there's nothing even identifying the disc as Fenn O'Berg: only the title on the spine and their individual names inside. Essentially, In Stereo, the trio's third, feels like a first record by a new band, albeit one that were in a different band together previously.
Given that, it's solidly good-not-great. The disc is divided into six tracks, titled as parts I through VII, curiously not in numeric order and lacking a II. This could reflect a reordering of the improvisations as played, which makes sense given that the final two pieces presented are the final in numbering as well (although reversed), and the most cohesive. Or it may just be a trickster's titling game. In any event, there is finally a feeling of finding themselves which is actually fairly exhilarating after 40 minutes of pushily intrusive ambience. It's certainly not a bad record, not at all, and the initial traipsing about gives it an interesting arc. Ultimately it's not really their fault whatever expectations their names elicit.
Comments and Feedback: