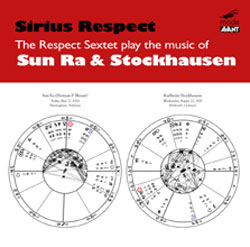 Making a single program out of the divergent compositions of Sun Ra and Karlheinz Stockhausen is a clever move on several levels. It's good schtick to be sure, eclipsing traditional boundaries and calling attention to two heralded (though perhaps not heralded enough) figures of 20th Century music.
But it's not just good gimmick. Despite the fact that they come from different (jazz vs classical) traditions, as artistic philosophers the two have more than a little in common, enough so that Prof. Anthony Braxton has taught a course covering the two at Wesleyan University. Both saw music as transcendent, as something of greater service than mere entertainment, and both were very interested in how new technologies could be applied to music. And at times, Stockhausen and Sun Ra each claimed to be from outer space.
The Respect Sextet is just the band for such a dual tribute. In the past, they've recorded pieces by Fred Anderson, the Art Ensemble of Chicago, Dewey Redman, Bob Marley, Lee Konitz and JS Bach, so they're clearly into the adaptation game. And with a membership which individually has played with Cuong Vu, The Campbell Brothers, Alarm Will Sound and Bjorkestra, diverity's in their gene pool. All the name-checking, however, also suggests what holds the disc back. Clever as it all is, the disc comes off as something of an exercise: a well-executed one to be sure, but it's all a little clean. Their Sun Ra's a little too tidy and their Stockhausen not quite vibrant enough. Mister Ra gets well more than twice as much play time, and the pieces alternate awkwardly between the two composers, where two programs with a suggestion of intermission would have made for a more listenable record. The argument only really gels on the final track (and at 14 minutes, the longest), which interpolates Stockhausen's "Capricorn" with Ra's "Saturn." They're still more or less presented side-by-side rather than juxtaposed, but it's the most inventive track on the record.
Comments and Feedback: