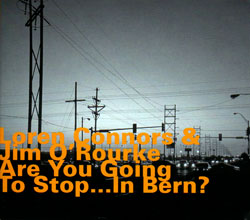 Loren Connors' world, at least his musical world, is a sorrowful place, a gray field (if not a darkened alley) where he's most often to be found alone. His work has almost always been solo, and when he does play in duet (anything larger is exceedingly rare, although his powerful quartet Haunted House did stage a reunion at Brooklyn's Issue Project Room in July, 2010) it's his world they're staying in: abstract and open-ended, with a blues running deeper than the counting of bars.
Fellow guitarist Alan Licht and vocalist Suzanne Langille are his most common duet partners (Langille also sings in Haunted House), and beyond them there's hardly a handful, most notable among them Haino Keijii and Jim O'Rourke. The partnership with O'Rourke was primarily for a 1997 European tour, documented on the now-reissued hatOLOGY release Are You Going to Stop ... In Bern? and more recently on Family Vineyard's Two Nice Catholic Boys. O'Rourke is a remarkably versatile musician, almost a character actor even, and he brings an informed twist to the partnership. While he's there with Connors in pace and mood, he drops slight jazz phrasings and delicate, passing melodies under the dark clouds of Connors' muse.
With O'Rourke's contribution, the four tracks here, originally recorded in Bern for Swiss radio, have a clarity unusual in Connors' recordings. And while it's not lacking elsewhere, it's nicely effective here.
Comments and Feedback: