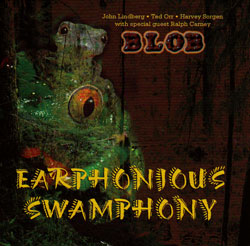 We'd like for nature to be a quiet place: idyllic, the antithesis of our busy lives and artificial environments. We'd like a Vermont hillside or Kentucky lakefront to be peaceful and reflective. But it's not. It's cacophonous and uncontrolled. Add N to (X)'s Ann Shenton was right. Nature is loud as fuck. And the primary offenders are the frogs.
And so and as such, Earphonious Swamphony, a CD by the jazzish trio-plus-one Blob, should be filed alongside recordings of rainforests and ocean tides, if only to keep those packages of new age awake like a noisy neighbor. The core of the band is a threesome of adventurous players: John Lindberg (billed with double bass and effects devices), Ted Orr (electric guitar, AXON Midi guitar) and Harvey Sorgen (drums). They're joined by the fine colorist Ralph Carney on clarinets, bass saxophone, tuba, bass trombone and flute. It's a rowdy enough band, but on top of all that are frogs. Lots of them. And crickets. And noises. Lots of them.
Which doesn't mean there's no rhyme or reason to the music. The tunes are still constructed, even if there are often several things going on at once. But Lindberg's wah-wah bull fiddle sounds great duetting with bullfrogs, and reverb-enhanced snare with a slipping and sliding bass trombone make for a wonderful swamp soundtrack. The playing is hard and dynamic, and the field recordings (for which no credits are given) are varied enough so as not to get redundant and the players inventive enough to keep remaking the wheel, resulting in an absolutely fun record.
Comments and Feedback: