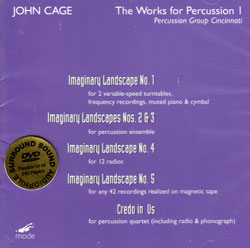 Ulrich Krieger has carved a special place for himself as a new music saxophonist. He has recorded works by Luciano Berio, Gavin Bryars, Phill Niblock and Radu Malfatti, has arranged Lou Reed's Metal Machine Music for contemporary chamber ensemble, and has recorded extensively with Alan Licht and Lee Ranaldo in the group Text of Light. And with this release, Krieger completes his efforts at recording all of John Cage's compositions for saxophone.
As on the previous volumes, Krieger approaches Cage's works with the assistance of his longstanding quartet Intersax, some other guests and in some cases multi-tracking. But where the first two volumes (released individually by Mode) were comprised of more conventionally structured and notated work, on this double disc set Krieger takes on some of the more conceptual of Cage's works. In the process, he makes a couple of superfluous moves but also comes up with a rarely heard gem of a collaborative composition.
Each of the two discs opens with a half-hour work from the Numbers Pieces before moving on to shorter, or at least more varied, works. The collection doesn't include Cage's spoken piece Indeterminacy, but does borrow its title as an organizing principle. The works presented here aren't notated scores but are derived from sets of rules that the performers have to work through to arrive at their own unique scores.
Disc one opens with FOUR6 realized for amplified sax quartet and recorded live by four players. It's an excellent starting point for the set, presenting an index of possible saxophone sounds within a quiet stillness. The Number Series is among Cage's final works, at which point he was ceding considerably more latitude in decision-making to the performers. For this reading, the players came up with a catalog of sounds and then, still following the dictates of the score, arranged them in a complementary manner to create the final piece. This is, perhaps, verboten to the strict Cageian (although not to Cage himself), but the sonic panorama doesn't yield any obvious influences of the players' egos. And either way, it's quite beautiful.
That's followed by a pairing of pieces (also allowed within Cage mores): Cartridge Music from 1960 with 11 Instruments from 2005. Here Krieger conceived an opposite structure. Eleven saxophonists each recorded their parts independently, and in different locations, and the recordings were compiled, assumedly with no aesthetic judgments made in the layering. The sounds each player produced were derived from Krieger's adaptation of Cage's Cartridge Music, written for a turntable stylus or any other means of producing "amplified small sounds." There are no large sounds and rarely anything entirely saxophoney, and is unlikely to excite casual Cageists.
The sonic density thickens with another pair of pieces, Fontana Mix (1958) and Sextet for Low Woodwinds<./i> (2005). Fontana is a tape construction (or a set of rules for same), here constructed from tracks from the four CAGE of saxophones volumes. Krieger constructed the Sextet following the same structure as Fontana, playing all of the horns himself. (Creating something of a set theory riddle, the Sextet then presumably feeds into Fontana as well.) To gauge them in terms of successfulness would run counter to the Cage stance, but these two pieces would perhaps be more listenable to more people than the take on Cartridge, an almost avowedly nonmusical (by any standard definition) composition.
The first disc closes with one of a wonderfully unexpected selection, a 10-minute, 20-section work called Party Pieces co-composed by Cage, Henry Cowell, Lou Harrison and Virgil Thomson. Essentially a musical Exquisite Corpse, it was written with each composer seeing only a fragment of the preceding section. In the realm of any of the co-composers, it is just a footnote, but it's a great bit of history, and the tonal rows in Krieger's sax-quartet arrangement make for a nice end to the first half of the program.
Disc two starts with the other of the Number Pieces, One7. Krieger takes this one solo, and in his liner notes draws a parallel to Cage's famous 4'33", or the "Silent Piece." One7 is essentially a system of framing the times during which sound events might occur, akin to the frame of 4'33", within which no intentional sounds occur. One7 achieves a remarkable stillness and leads, then, logically enough, into the first of two versions of 4'33". And while it might run counter to the Zen Happenstance philosophy of Cage to consider a piece "rewarding" or "satisfying," it might still be kosher to consider something superfluous, and including two different recordings of Cage's most famous and most misunderstood piece is a bit of overkill.
Cage scored 4'33" in 1952 for a player (David Tudor in particular) sitting at a piano and doing nothing for four minutes and thirty-three seconds, but later allowed that it could be performed on — or "at," perhaps — any instrument. It's a touchstone of the 20th Century avant garde, and has been repeated and ridiculed numerous times. As a concept for discussion, it's hasn't been quite dug into the ground. Kyle Gann's No Such Thing as Silence (published last year by Yale University Press) is a fascinating study of the piece. But at this point in time what the piece can add to a recording is a legitimate question. The two versions here are set for saxophone trio, one with the studio windows open and the other with the windows closed. It's a pair of honest realizations that can't help but come off as a bit cheeky. All arguments about the piece, however, should include the fact that it's relatively short. The nine minutes and six seconds they occupy don't amount to enough that the release could have been a single disc without them so why, one supposes, the hell not?
Between the two 4'33"s lies the strongest recording of the set. The 1989 Sculptures Musicale runs 37 minutes and essentially closes the collection. Like the Number Pieces, Sculptures Musicale works with bracketed amounts of time within which certain sonic events (not strictly prescribed) are to occur. Krieger pulls this one off with his own reeds alongside guests providing accordion, percussion, piano and strings. Objects, electronics and small instruments also make their way into the mix, as well as a considerable amount of silence. The greater variety of instrumental voices makes it a more compelling listen (again, whether or not it "should"), even though the instrument's natural voices aren't often distinct, and the dramatic use of volume, density and abrupt quietness is shocking. It's strangely dramatic for Cage, but a great listen nonetheless.
What's also strange is how rarely this sounds like a saxophone record, something to Krieger's credit as an arranger and conceptualist. That, however, doesn't really matter. Cage's music often didn't specify instrumentation, and at bottom the music isn't written for instruments so much as for their players. His compositions are to be worked through, discovered and acted upon; oftentimes, faced with a ruler and a set of transparencies as a score, there's no other choice. Cage left a wealth of scores capable of generating what are essentially new pieces of music even after his death. That, when put in the hands of someone as attentive and diligent as Krieger, is the magic.
Comments and Feedback: