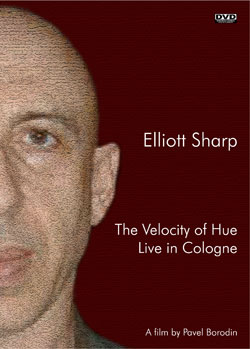 Freezing a project in recorded form can often undermine its evolution, a situation perhaps less problematic with the abundance of tiny imprints anxious to get noticed. There is, in other words, an awful lot of documentation of improvisation going on, but in the case of a project like Elliott Sharp's Velocity of Hue, it hardly seems a problem.
The initial Velocity of Hue release (Emanem, 2003) was a fascinating new take on the language of the blues. Sharp had already played more or less straight electric blues, most notably with his band Terraplane, but here he was alone with his resonator guitar and not so much deconstructing the blues as absorbing it. He continued exploring the material in concert after the record's release, stretching it into deeper abstraction and preserving it from the amber.
Two years after the album's release, Sharp performed the material at Loft in Cologne, in a concert well captured by director Pavel Borodin's multiple cameras. This time we find Sharp with a beautiful Godin amplified hollow body running through his laptop, which makes for a broad spectrum of hues, from purely acoustic to real-time sampled electronic passages. In truth, the material doesn't bear too striking a resemblance to the Emanem release, but there may be a different methodology behind it. The music here is built from more familiar Sharp tactics, with lots of fast hammering and harmonics, but like the Hue CD, there is a very organic and personal feel to it. Sharp also plays from his Tectonics compositions and does what he calls a "New York City delta blues" encore. Interspersed with brief interview clips, it's a fine portrait of a ridiculously talented innovator deep in his element.
Comments and Feedback: