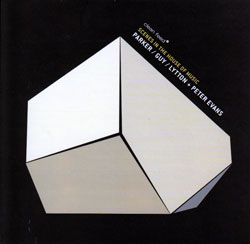 Evan Parker's sponsorship of Peter Evans as an honorary European Free Improviser has been as remarkable as it is well deserved. The story of Evans giving Parker a home recording and then having to sit as Parker promptly put it on, listened and critiqued it is the stuff of modern-day legend, and Parker releasing two of Evans' solo recordings on his psi imprint did much to concrete the trumpeter's reputation as a leading figure in the new generation of avant jazz.
With Scenes in the House of Music, another giant step is made in young Evans' honor. Recorded live at the Casa de Musica in Porto, Portugal, in 2008, the album shows Parker remaking his longstanding trio into a classic, piano-less quartet. Alongside Barry Guy and Paul Lytton, Evans is shoulder-to-shoulder with the living greats of the first generation of British free improvisation. And of course, he wouldn't be there if he was likely to shrink from the assignment.
The group opens in perfect alignment with Evans executing some theremin-like lines over the familiar rumble and roll of the trio. They are billed as a trio+one and indeed it's hard not to hear them that way, the trio being so strong and established as a working unit. Parker ranks with Roscoe Mitchell and very few others as being an absolute wonder at multilinear saxophone playing. Guy's double bass is rich and lyrical, grounded and full of flight at the same time, which makes for a complexly beautiful rhythm section with Lytton, whose small movements and endless vocabulary of sounds buzz around rhythms like bees around a hive. Evans' trumpet darts above and below and sometimes straight through them for the first four minutes of the set, until Parker drops out and allows a brief and wonderful trio to emerge. Evans then pulls back so that the startling intricacies of the rhythm section can be heard without fetter. They gradually shift then toward a near horn duo, then reconvene with new momentum. By 12 minutes in, the ground has been staked.
Evans opens the second piece with his bell-on-mic maximalism. His extended tone playing is too varied to quite be called a drone and certainly too forceful to be called "minimalist." It is, rather, something like a jet engine: Tones hover, flutter and fall within an expansive roar. Evans has an uncanny way of interrupting himself here, which after three minutes attracts Lytton's small percussion. Guy brings back the trumpet trio and pulls them back to smaller gestures. It's exciting and beguiling. Parker allows a full six minutes to pass before his entrance. Then the horns do a front-line tit-for-tat that is unexpectedly jazzy. They carry on in such fashion throughout the set: Remarkable unaccompanied solos and the deepest of group interplay fill the program.
Free jazz records don't often have unaccredited cameos, but on this night the trio+1 shared a bill with the trio of Louis Sclavis, Craig Taborn and Tom Rainey, who are brought up for the final piece. In keeping with the gentlemanly proceedings, the 13-minute final section is hardly a double-trio blowout; a casual listener would be forgiven for missing them entirely, their introduction being made off-mic and their names unmentioned on the cover. They do a nice round-robin, not all playing at once until the very end and even then keeping a tempered throttle. And with the addition of a French saxophonist and an American rhythm section, Evans is at home on the international stage.
Comments and Feedback: