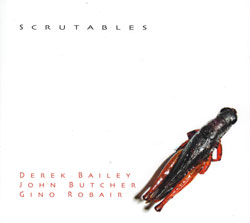 There's never enough of the late Derek Bailey's schismatic handling of the guitar to hear, especially in contexts where the scintillating qualities of his playing — from both points of view, physical/instrumental and creative — meet the crumbles of optimistic delirium generated by hyper-reactive comrades such as Gino Robair and John Butcher (energized surfaces and saxophones respectively).
A distinct "resonant metal" quality informs the bulk of this London meeting, recorded in March of 2000. Zinging clashes and intricate disquisitions mesh quite splendidly, a non-ostentatious intercommunication defining the general ebullience. Second sights were not in attendance in this case, the players just translating innumerable prickly impulses into startling sounds, their attention's VU meters systematically on the red. A timbral cauldron comprising hundreds of stimulating counteractions and surprising acoustic liaisons: the way in which Robair makes selected drum parts reverberate ominously in the opening track "Almosthenics" as Butcher and Bailey give nourishment to the interplay via slashing clusters and sliced-open upper partials is emblematic of a continuous switching of positions. No one ever takes a commanding role, despite the possibility of each musician to figure as a driving energy in certain sections.
"Frangible" is the lone episode in which — for a few moments — the trio gets vaguely near to the sort of pressurized quietness that has turned 80% of EAI into a receptacle of hissing commonplaces and tiresome waits for an anti-event. But after a while they re-increase the pace and restore the quantity of tangible notes and educated noise, giving us back the sensation of holding scorching objects in the palms of our hands rather than looking at someone exhaling the last (damp) breath. 48 minutes of excellent music: we need more of this type of archival material around.
Comments and Feedback: