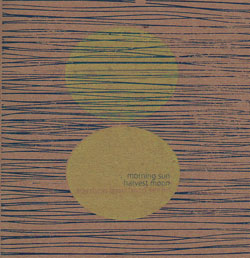 For decades it was been a truism of Chicago jazz that you had to leave to get noticed. That's changed for a younger generation (Nicole Mitchell, Jeff Parker, Ken Vandermark), but there's still an older generation in the city of broad shoulders deserving to be heard: saxophonists Mwata Bowden and Ari Brown for two, and a third starting to gain notice outside Illinois is bassist Harrison Bankhead.
Bankhead got a much-deserved ride on the coattails of the great Fred Anderson, who arguably broke the mold of having to leave to make a name (see especially his appearance on Anderson's 2003 Back at the Velvet Lounge and their duet The Great Vision Concert, recorded at the Vision Festival in 2003). Now, at an age where many people are looking to retirement, Bankhead has released his first recording as a leader.
Morning Sun / Harvest Moon comes off very much like the work of a proud session man, and very much like a Chicago jazz man as well. The warm and enjoyable set of eight songs is remarkably varied, touching on AACM meditation, Sun Ra free swing, Gene Ammons hard bop and even a touch of jazz rancheros. With all of that — as well as dedications to Anderson and Leroy Jenkins, two passed masters of Chicago jazz innovation — it could be called a "portrait of Windy City jazz" but Bankhead is never so presumptuous. It's just a continuation of what he's been doing for decades, this time with a hot little septet that includes Ed Wilkerson, Mars Williams and Avreeayl Ra. And this time with his own name up top.
Comments and Feedback: