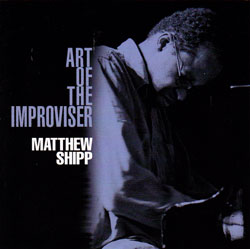 It's a bold move taking the name of a classic Ornette Coleman record as the title of one's own. But Matthew Shipp is a bold revisionist. There's nothing about his double-disc set that checks Coleman's 1970 release (which came late in the classic piano-less quartet days) so it could be excused as coincidence. Except, of course, that Shipp knows better.
So perhaps it's better to take the titling as a stirring of jazz alchemy. When inclined, Shipp can stand standards end-to-end and upside-down, perhaps something like the way Coleman overturned hard bop 50 years ago. Maybe, then, the improviser's art isn't like the magician but more akin to the interior designer: he's not making something from nothing, he's making something new from the old.
Shipp only includes one standard per set in the two concerts captured here, but both, coincidentally or alchemically, are about some means of transit. In an April 2010, performance with Michae Bisio on bass and longtime cohort Whit Dickey on drums, Shipp lays down an up-tempo "Take the A Train." And in a solo set recorded two months later at (le) Poisson Rouge in New York City he does a more meditative take on "Fly Me to the Moon." But at this point in his career, he has his own book to work with as well, and he draws from his own compositions as well, themes familiar enough by now to allow for dramatic reworking within his hour-long suites.
On the solo disc, it's his "Module" and "Patmos" which pop out, their cascading melodies rising from open passages like a hill suddenly seen on the horizon. They bookend his "Gamma Ray," the three songs making for a downright elegant 20 minutes and a lovely close to the set.
The trio set especially shines with the shifting geometries of "3 in 1", but even more so with the playing of Shipp's band-mates. Dickey has always had a wonderful knack for playing with Shipp. His soft busyness keeps apace of the pianist's energy without running counter to the fragmented melodies, while a surprisingly loud solo propels them exponentially. Bisio here adds great depth and breadth to the whole. His seamless arco and pizzicato work and the ease with which he moves from fore to background add several dimensions of scope to "A Train."
Shipp's releases have been less frequent and more considered in recent years, and his playing more focused, the art of the improviser more crystalline. These two additions show him, once again, in fine form.
Comments and Feedback: