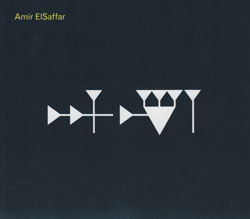 It's been a long wait for the follow-up to Amir ElSaffar's 2007 release Two Rivers. The trumpeter has certainly kept himself busy since then (see especially his Radif Suite with saxophonist Hafez Modizadeh, also on Pi), but Two Rivers seemed key to his unique hybridization of American and Arabic music and deserved further elaboration.
The genesis of his music is a story that bears repeating. It's only as an adult that he's studied the Iraqi forms he heard as a child coming from his father's turntable in their Chicago home. He made the sojourn to his ancestral homeland in 2003 and found understandably and unexpectedly that the maqam masters had all fled, most of them for London. He spent the next five years traveling through Europe and the Middle East, studying the centuries-old tradition, learning the structures, vocal styles and to play the zither-like santour. At this juncture, the traditional maqams as well as other Arabic and Sumerian modalities are fully integrated with the jazz language the trumpeter had already embraced, although ElSaffar does also perform purely traditional music and in 2009 was a semi-finalist in the International Maqam Competition in Azerbaijan.
The depth of his study is crucial to his work with the Two Rivers Ensemble. ElSaffar has used the music of his heritage as a foundation, not an inflection (structural, not mere flourish) which is what saves him from one of jazz's great sand traps, the one-world melting pot of cultural whitewashing. His music, like he himself, has its heritage in its roots, not its leaves (if the sensitivity-demanded mixed metaphors can be forgiven). Unlike jazz's often-fickle flirtations with African, East Asian and Indian, the non-Western influences in ElSaffar's music come from within.
Inana is comprised primarily of a titular suite telling in music the story of the Mesopatamian goddess of carnal love and warfare, opening with a beautiful maqam prayer and culminating in a complex suite-within-a-suite which shows ElSaffar's deft hand as a composer. The sextet feels evenly split between Mid-East and West, with oud, buzuq percussion and the leader's santour working alternately in tandem and in complement with the sax, trumpet, bass and drums. The disc closes with "Al-Badia," another prayer which beautifully melds the sides of the band and of ElSaffar's own musicality.
In feel it is at times similar to the calm before the storm of the mid 1960s, the sense of peace and group discovery in the works of John Coltrane, Eric Dolphy, Andrew Hill and Jackie McLean just before free jazz exploded. In no small part that's due to the controlled fire of saxophonist Ole Mathisen and drummer Nasheet Waits. But that's not all that's at play, and his is certainly not a retro act. As both a player and a bandleader, ElSaffar works the material backwards and forwards backwards into history and forwards into a new hybridization of American and global musics.
Comments and Feedback: