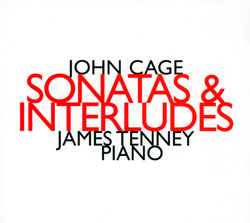 John Cage will forever be known (unfortunately, although perhaps he would be proud) as the composer of the "silent piece" 4'33". It was, no doubt, a major statement in aesthetic philosophy but what is likely his second best known piece is a key work in his own art. Sonatas & Interludes (composed between 1946 and 1948) wasn't the composers first piece for prepared piano, but it was the first major one. Having been commissioned to write a percussion score for a dance piece but finding the theater to small for a percussion ensemble, Cage set about creating a percussion ensemble out of the house piano, affixing nuts and bolts, erasers and weather stripping between the strings to create a range of tones akin to gongs, gamelan and marimba and in so doing developing a new instrument which, six decades later, is verging on the commonplace.
With the discovery of the prepared piano under his belt, Cage set about learning its vocabulary and how to write its poetry. He wrote many pieces for it but Sonatas & Interludes remains his major statement on the revamped instrument. The piece is strictly composed, with measurements to the quarter inch for placement of objects on or between strings noted on the score. Despite the fact that it takes hours to ready the piano, it remains one of his most performed compositions (discogs.com lists more than 50 commercial recordings) for the simple reason, no doubt, that the music is utterly beautiful.
Composer and musical theorist James Tenney heard Cage himself perform the piece live in 1951 when he was just 16 and recorded the set of 20 brief studies in 2002, four years before his death. Somehow his wonderful take on the piece remained unreleased for a decade and listening to HAT HUT's CD issue now is, perhaps, to be met with an argument that the Sonatas & Interludes is a more virtuosic piece than is sometimes understood and that Cage is, quite literally, a composer's composer. The sounds Cage found in the prepared piano are entrancing enough that any competent performance is engaging, but approaches vary widely. In some hands the dramatic sounds of the prepared strings are emphasized, but what Tenney gets (and a few others, including John Tilbury in his wonderful rendition released by Explode Records in 2006) is that the piece isn't favored by playing to its idiosyncrasies but rather by playing through them. Tenney plays it, in other words, not as a percussion piece but as a piano piece, allowing the preparations to ring after the keys are struck without giving them undue emphasis. He takes some of the sections at surprisingly brisk tempi, but even then the musicality in the composition comes through. In Tenney's playing, we hear not only the wonderful ringing of the prepared piano but, as clearly and as crucially, the through-lines of Cage's composition.
Comments and Feedback: