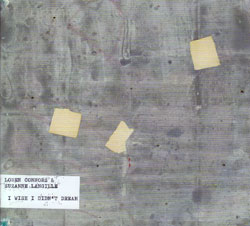 This writer is notoriously an unrepentant brute as far as fine arts and literature are concerned. I wasn't aware of MP Landis' art prior to receiving this disc, whose cover booklet holds several samples of his visions on folded paper, and was surprised to learn that he is an A&R consultant for the very label that publishes it. Yours truly is not a genuine Loren Connors partisan either, despite a sincere respect for the man and the sparse appreciation of past releases. Still, detecting truthful significance (or lack thereof) in music is my vocation; in that sense, I Wish I Didn't Dream delivers plenty.
The record took shape in a lone recording session, after Landis and producer Kurt Gottschalk — who at the time was intent in preparing a book about Landis' opus — resolved to execute the joint project with a slide show, to which the musician would respond on the spot. Suzanne Langille was an expectable choice for the vocal part, born from a series of poems and fragments of verses — by herself and other authors, mostly obscure but also including Keats and McCarthy — recited in rather dramatic fashion, with just a few hints to actual "singing" and a pair of episodes evoking tenuous echoes of Marianne Faithfull's communicative hoarseness; "La Belle Dame Sans Merci" instantly comes to mind. Every whisper, every little breaking of the voice gets captured by the extremely close miking, the affecting qualities of Langille's performance strengthened with each new listen (especially in the tracks titled with incitements such as "Come On, Come On" and "Gotta Work").
In the same small neighborhood live the primary features of Connors' playing, in spite of the apparent distance of the transmuted shades hovering upon his longtime partner. The amplifier might have been kicked back a couple of meters, or five, from the microphones; however, by listening intimately you can hear, on occasion, the guitarist's savage picking on the strings before thick jumbles of muzzy pitches and single acerbic notes start exhaling fumes of immateriality. Heavy reverbs with a low direct sound/effect ratio — in addition to what's perceived as an Electro Harmonix Micro-Synthesizer pedal by these ears — bring forth a wholeness of hues replete with filtered frequencies, pseudo-wah tints and barbed-wired skeletal chords.
The final result is intriguingly intoxicating: experimental aural theatre generating a somewhat paranormal acoustic picture spreading by osmosis across the air's molecules.
Comments and Feedback: