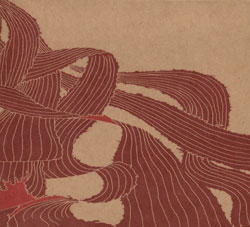 In the discipline of vibrating-reed physics, few come close to the research being done by John Butcher, but clarinetist Jeremiah Cymerman might be approaching him in pursuing a new understanding of the sounds that come inherent to wind being pushed through a tube. This is not hyperbolic imagery. Butcher is a trained physicist and has seriously investigated the sonic properties of the saxophone, using close mic'ing, feedback and room acoustics to uncover new sound-making possibilities. The younger Cymerman has different concerns. He uses electronic effects and builds denser noisefields, but many of the approaches and resulting sounds remain similar. Cymerman is dedicating much of his efforts these days to solo playing, and his self-released Purification / Dissolution shows the first fruits of that concentration.
Eleven minutes in to the opening title track, Cymerman's natural clarinet at last rises above the layers of sound. It soon submerges again, but its voice remains above the electronic manipulation for the final two minutes of the track. It's a nice move, allowing us to hear some of the acoustic technique and recognize what is going on within the din. The short second track continues at a fairly intense level, but the third (dedicated to the late Beastie Boy Adam Yauch) and fourth carry on with more "pure" playing, although echoes and peripheral sounds continue to augment the music. Hints of abstract psychedelia begin to push to the fore during the fourth, opening the space up for "The Grace of Prayer at the Moment of Death," the beautifully ethereal closer.
Cymerman recorded the sessions at home, and the beautifully present disc, mastered by the finely attuned Jamie Saft, comes housed in a digipack graced with cover art by Toby Driver of Kayo Dot. The whole of the package promises much for the future of Cymerman's audio investigations.
Comments and Feedback: