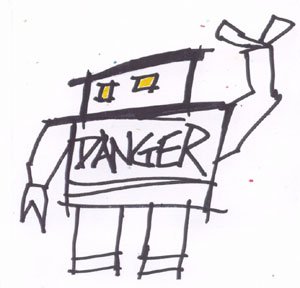 Mr Dorgon, aka Gordon Knauer, has released two records under yet another alias, these as the turntablist DJ$Shot. The tireless sonicist has also released an lp and a double cd of sample manipulations with keyboardist Jamie Saft under the name Pramrod Sexena. His many projects (he has also recorded duets with William Parker and drummer Laura Cromwell, most released on his own Jumbo Recordings, and led the great '90s fast-cut band Dim Sum Clip Job) have genuinely been strong and challenging, which is why this new turntabling disc is a disappointment.
As a saxophonist and composer, Dorgon favors jagged lines and extended drones. With Saft, he creates sweeping, sometimes comic soundscapes. And the first $Shot records incorporated a great bit of spinning and scratching on a classical guitar recording. Of all the projects under all the things under all the names Knauer has been, boring hasn't been one of them.
Dorgonix is his first record that seems to be (somewhat) standard fare. Beats and loops that might mystify some dancefloors still do little to tickle ears accustomed to oddity. A sample of a bad stand-up comic is the only real surprise, and even then one that progresses toward nothing.
It's a hazard of the digital age (as well as a plus) that artists can put out what they want without needing conference-table approval. Mr Dorgon's batting average is still strong. Hang tight for the next one.
Comments and Feedback: