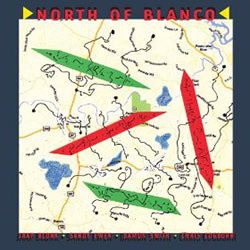 Jaap Blonk's ensemble improvisations are often his most perplexing projects. It's weird that that should be the case since what he does is essentially behave as an instrumentalist should, but with the voice voice — an actual human voice like most all of us have, even if few of us are capable of the breadth of nonverbal expression Blonk has at his disposal — it creates a bit of a forest/trees dichotomy to hear something so individually present and powerful subsume into a collective.
Which is a rather overworded way to say that in Jaap Blonk's group improvisations I often end up wanting more, overworded to mask the fact that I know my wanting more should not be a part of the equation. Such are the perils of harboring expectations. Blonk is an enormously enigmatic solo performer and an equally equitable team player. But unlike the aforementioned forest and trees, soloist and group member don't always co-exist easily.
Blonk has recorded a number of improv meetings on his travels and North of Blanco is reminiscent of a couple of past Chicago outings: a quartet with Jeb Bishop, Lou Mallozzi and Frank Rosaly (on his Kontrans label) and a trio with Fred Lonberg-Holm and Michael Zerang (issued on the Dutch label Buzz-Records). Here he is found in Texas and in the company of guitarist Sandy Ewen, bassist Damon Smith and percussionist Chris Cogburn.
The 2013 studio recording is an odd mix of busy and subdued. It's not just Blonk that is immersed in the proceedings, it's the whole of the band, drowning in themselves and showing a deep, shared commitment to the group dynamic. The centerpiece is a 21-minute exploration entitled "Brewing Tools" but in point of fact the session comes off as a seamless whole. It's low and growly with clicks and static without falling to rote minimalist or EAI trappings. In a field of strange soundmaking, North of Blanco is, well, a strange record. Abandon expectations, all ye who listen here.
Comments and Feedback: