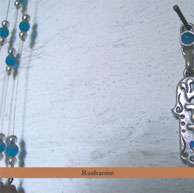 Jon Madof's first record isn't just a welcome addition to Tzadik's Radical Jewish Culture series (the imprint's burgeoning catalogue is fast approaching the 100 mark). Madof is a welcome addition to the downtown scene. While new musicians, some great, regularly spring up below 14th Street, guitarists (or at least strong ones) have become a scarcity.
Madof is lyrical, inventive and powerful, and approaches the heads of his pieces in a variety of ways on this klezmer-tinged recording. He probably follows Marc Ribot most closely among the downtown guitarists, although with less of a rough-hewn style. Throughout the 11 tracks, he plays hard, plays pretty and plays well. He has a strong rhythm section in drummer Mathias Kunzli and Satlah bassist Shanir Ezra Blumenkranz, but the record is really Madof's tour-de-force. After a promising appearance on the Masada covers disc Voices in the Wilderness (Tzadik), he carries through completely, making his good (if unremarkable in themselves) compositions sing.
Rashanim is a refreshing take on the Masada wake documented by Tzadik. But Madof already has some other work under his sleeve, including work with free improv stalwart Daniel Carter. Hopefully in time he will show himself to be as inclined to varieties of projects as the previous generation of downtown journeymen.
Comments and Feedback: