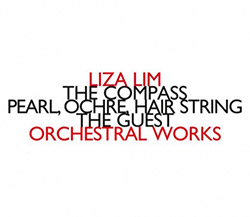 Liza Lim does not, at least judging from the compositions on her Orchestral Works, suffer from any bouts of conceptual agoraphobia. Although only about 20 minutes each, the three single-movement works are grand in terms of scale and scope. The pieces all find their inspiration in Sufi poetry, or perhaps more appropriately share with the Sufis a wonderment in vastness and complexity.
Lim doesn't, however, attempt to put on the cultural costume of an Islamic prophet. The music here is firmly grounded in her native Australia. The opening piece, "The Compass", includes a pair of didgeridoos and a chant in the indigenous language Kalkadoon. "Pearl, Ochre, Hair String" is an attempt to realize the aboriginal visual art of northern Australia in music, and even without visual evidence comes off as vividly impressionistic.
Lim makes great use of the orchestra (here the Symphonieorchester des Bayerischen Rundfunks), calling to mind, especially in the first two pieces, such masters of the large orchestra as Mahler and Stravinsky. And like those two masters it is by virtue of a strong compositional sensibility that she is able to see her way through a diversity of informing forces without developing artistic laryngitis.
The final piece, "The Guest", gives its central voice to a jubilant recorder, supported by the strongest Persian influences on the album. Unlike the first two pieces, the music here is slippery and meditative, but here again she never trips over the trappings of her sources. "Orchestral Works" serves as evidence of a strong and assured musical vision.
Comments and Feedback: