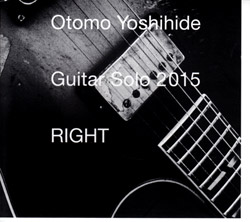 What is most remarkable about the single, 62-minute track on Otomo Yoshihide's Guitar Solos 2015 RIGHT is how consistent, top to bottom, it sounds. Or, viewed through a different lens, how much coherence (real or imagined) we've learned to grant to disassociated sounds.
The recording was initially created as a sound installation with bits of Otomo's guitar cut and pasted together for playback. (That show, "Otomo Yoshihide: Between MUSIC and ART" also included quartet recordings with four musicians likewise diced and spliced.) So while the intentionality is preserved from the performance, any continuity essentially has been scrapped. In fact, the source recordings were 123 2-3 second takes, so there may well be more continuity to the computer construction than there was to the original session.
"Between music and art" is a useful phrase here. While we generally want music to be an expression (usually an emotional one), other art forms are allowed the luxury of being reflections or recontextualizations, or even attempts to realize fantasy or dream states. Music is supposed to somehow speak emotional truth and if it is arbitrary or accidental, there are those among us who may feel lied to.
Otomo's solos here do speak, at least to those comfortable with abstraction. Whether the story received is the one being told doesn't seem, upon reflection, to matter. Does it (and the previous Guitar Solos 2015 LEFT) count as a guitar solo? Well, it sounds like him and he's the only person playing. Academic questions aside, it's an enjoyable record by an innovative musician, even if there was a bit of a shuffle in the middle.
Comments and Feedback: