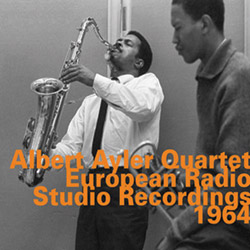 We have radio to thank for much of the recordings we get to hear of the fast-burning fire that was Albert Ayler. The man who inspired the master John Coltrane to reach for the heavens released 13 albums during an eight-year recording career that was cut short when he was found floating in the East River. Fortunately, European radio stations saw in him something that few stateside outlets recognized, including his own label (Coltrane is said to have told Impulse! records to siphon his proceeds to fund recording Ayler): There wasn't just a method to his madness, there was also a profound and meaningful message. It was radio programmers in Denmark, France, Germany, Sweden and the Netherlands who preserved some of the most sublime documentations of Ayler's deceptively unsimple music.
Ayler's unusual melodic sensibility lies somewhere between nursery rhyme and frenzy, and his bands negotiated that divide with varying degrees of success, often over- or under-emphasizing the sing-song quality of his themes. Don Cherry got it, and in his presence Ayler didn't have to shout his arguments. By the time the tracks issued here as European Radio Studio Recordings 1964 (and previously available under other titles) were recorded (September and November of said year, in Denmark and the Netherlands), Cherry had already worked with Coltrane and Ornette Coleman. A man with a thirst that would lead him to explore traditions from around the world, Cherry had a gift for learning the musical languages of others and speaking them (so to speak) as if he were a native. With his presence, the band (Gary Peacock on bass and Sunny Murray on drums) is comfortable and confident. The two horns, along with bassist Gary Peacock and drummer Sunny Murray, were perhaps the tightest unit Ayler had.
Like Thelonious Monk, Ayler reused a relative handful of tunes, endlessly reshaping them rather than writing new themes. The track list here has few surprises. "Angels," "Ghosts," and "Saints" are all present, along with a pair of "Spirits." A track called "C.A.C." shows up as "The Wizard" on Spiritual Unity. But also among them is an untitled power ballad (if we can borrow the term) and — in a rare instance of Ayler including a tune by someone else — a great take on Cherry's "Infant Happiness," which showed up again on his 1966 album Song for Improvisers.
There are some Ayler issues out there which are difficult for even the most diehard to listen to. Thanks again to European radio programmers, this set of tracks is clean and clear, making it as essential a title as most of what he released during his lifetime.
Comments and Feedback: