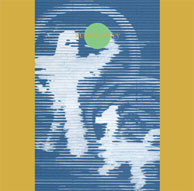 Even back when the story was that The Boredoms had no talent, they had a secret weapon. Those early records of screaming energy would not have been what they were without the able playing of guitarist Seiichi Yamamoto. Vocalist Eye's moment really came later, with the ambient, submerged psychedelics of the Super Roots series, and drummer Yoshimi P-We would seem to be a guiding force behind the more recent tribal rhythm records. (The rhythm and roots discs all blow away the earlier stuff, by the way. While people tend to tire of bands that stick around a while, BORE have just kept getting better.)
But raw rock without real guitar just sucks. Iggy had Ron Asheton and Eye had Yamamoto. The Boredoms aren't about showcase, but Yamamoto was the glue that held the manic early discs together. Later, as the band found form, Yamamoto found side projects that were more about musicianship: the fun but forgettable Omoide Hatoba, then the great trance grooves of Rovo. But on those, and even on his previous solo recording, Noa, he never seemed inclined to make the guitar record he surely has in him.
Nu Frequency comes close. It's not a disc of blistering solos, but it's more musical than the shards of noise on the Noa. There are moments of difficult listening, but for the most part it's guitar-driven space jams, played solo with only occasional assistance by percussionist China who doubles on synthesizer. There are nice atmospherics, some groovy beats and strong playing throughout. It's still not that record he has inside him -- the one that will give him recognition as a guitarist instead of another wacked Japanese player -- but he's getting closer.
Comments and Feedback: