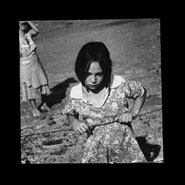 Loren Connors (now sans the MazzaCane) has been using multi-tracking on recent records, resulting in a very different kind of album for him. While he has had successful collaborations in the past (notably his duo with Darin Gray and the late quartet Haunted House, the latter never properly captured on record), he has always been at his best when he's on his own. Then, however, his slow melancholism is so spare that his records all become variations on no theme: emotive, effective, full of longing and more or less indistinguishable.
But with the two volumes of Departure of a Dream Connors (aka Loren MazzaCane, Loren Mattlei, Guitar Roberts, Guitar Slim, and others - his name changes as slowly and consistently as his music) has more fully realized his sad sound world. Because he plays so openly, the multi-tracking just makes this fuller music. Not complicated or overly layered. Subtle sound effects (hums, birds) are also folded in.
It's long been obvious that Connors is chasing a muse. Finally, with these dreams, it's being realized. This is some of his strongest work to date.
Comments and Feedback: