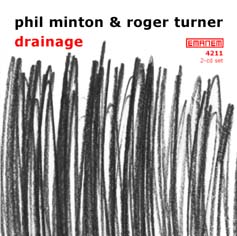 In many situations, the phrase "a cat locked in a tool shed" would likely carry negative connotations. But the sounds made by these two grown men are as animated as they are surprising, and suggest nothing so much as a backyard cacophony, of something having gone a little wrong.
Vocalist Phil Minton and percussionist Roger Turner each have more than three decades of performing behind them, the last third of which included working together. They have noteworthy credentials: Minton has performed and recorded with Peter Brotzmann, Fred Frith, John Butcher, Derek Bailey and Veryan Weston, among others; Turner's credits include work with Bailey, Steve Beresford, Evan Parker, Joelle Leandre and Cecil Taylor. They travel, in other words, in the best of improvising circles. The fact that they can come together and, without a melody instrument or melody itself, create two hours of engaging sounds is not just remarkable but, to the patient listener, a prospect for great enjoyment. They scratch and skitter and play their way through 14 pieces on a studio disc and lengthier improvisations on the live second disc. It's a rumble of sound. Minton's remarkable singing voice proper doesn't even appear until 19 tracks in, with a fleeting Sinatra dedication.
The cat, meanwhile, was stuck in the shed over the course of a holiday weekend. It panicked and played and knocked things about. It slept very little and found some water somewhere. And while it was no doubt frightened at times, it seems to have enjoyed itself.
Comments and Feedback: