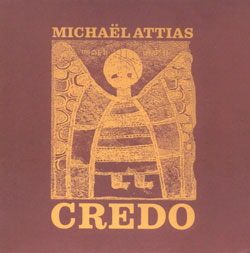 Saxophonist Michael Attias has a rich blend of cultures and influences. Born in Israel of Moroccan parents, he spent his childhood in Paris, his adolescence in the American Midwest, and these days he's settled in New York City. Mix in his studies with Alan Silva and years of work with Anthony Braxton, and it all blooms into rich, passionate music that's both deeply familiar and always surprising.
Attias wrote all eight songs on Credo, and he's an impressive composer. Highlights include "Credo", a remarkable song that's based on a composition by Girolamo Frescobaldi (1538-1643). The front line of sax, trombone, and French horn is tight and strong, and Attias puts out a lovely solo that's deeply expressive, fast and facile. "I's" is also a pleasure, with more tight horn work and great violin sounds by Sam Bardfield, who really gives the CD a special sound. "Dream that Darn" is a treat, an upside down, inside out version of the standard "Darn that Dream", with the sax and trombone engaging in a playful chase around the melody.
The musicians on Credo-Attias on alto and baritone, Reut Regev on trombone, Chris Lightcap on bass, Igal Foni on drums, Mark Taylor on French horn, and Sam Bardfield on violin-are uniformly excellent. Best of all you can really feel their joy in playing, and it's this ebullience as much as Attias' gifted composing that makes Credo such a special CD.
Comments and Feedback: