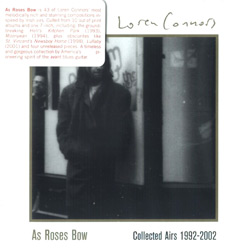 The Indiana label Family Vineyard has, quite praiseworthily, taken on the task of reissuing some of guitarist Loren Connors' long-out-of-print and rarely-well-distributed work, beginning with an excellent triple-CD of 7" vinyl releases and other rarities (Night Through: Singles and Collected Works 1976-2004, which has just gone into its second pressing) and now a collection of tracks, all but a few from previous CD releases, compiled as two discs of airs, or simple melodies. (Coming from the French word for aria, the loose form was employed by Bach and Handel, among others.)
Whether or not Connors saw these as airs, or as parts of a single cycle at the times of the recordings, is rather beside the point. It's a smart bit of packaging for what could also have been a "The Gentle Side Of... best of. This is Connors at his most delicately beautiful, the sweet lonesome cry of his electric guitar unadorned and unaccompanied.
And whether or not the 43 tracks here were written as a piece, they fall together remarkably well. Familiar highlights leap out (the tracks from Evangeline and Moonyean) but the set - three times as long as some of his records - works as a whole; The end of the first disc invites continuing immediately on to the second.
Family Vineyard has also been making some of those old albums available for download on iTunes, and is working on a DVD release spanning Connors' career. Connors is a deep soul, the real deal, and well deserves it.
Comments and Feedback: