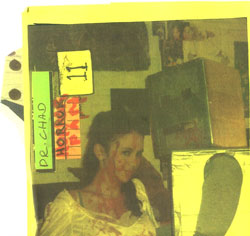 How insane Eugene Chadbourne actually is might be a matter of speculation. But when he's at his most insane isn't when he's reinventing Roger Miller or writing symphonies for bugs, it's when he's in mad musique concrète mode. His 1998 double disc Jungle Cookies was a brilliant mess of, among other things, damaged Sammy Davis Jr. tapes and recordings made on the street in Amsterdam. The "horror" series on his in-house label has been the home for many of these psychotic sound experiments, and Part 11 is one of the best of them.
Chadbourne's banjo — taken from a 2005 live recording with Mark Dixon playing his own invented instruments — manages to force it's way through the mayhem here, but the real stars of the disc are the 1,111 audio collage recordings that Chadbourne mixed in, using "sets of rules based on the number eleven [which] seemed more reliable than personal taste." In other words, it's a collage made of collages, a dense, crazed dance with show tunes, Christmas carols and maybe some Chipmunks suspended like bananas in a Jell-O mold.
Like most of Chadbourne's collage work, it doesn't particularly sound like a Chadbourne record. But philosophically it very much is, and it makes for a fascinating listen.
Comments and Feedback: