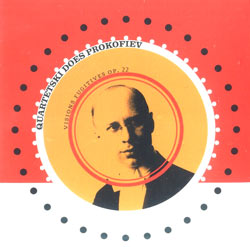 Montreal's creative music scene is growing by leaps and bounds these days, and this release is elegant proof of the fact. A piano-less and guitar-less quartet made up of trumpeter Gordon Allen, drummer Isaiah Ceccarelli, reeds player Philippe Lauzier and bassist Pierre-Yves Martel, Quatertski is a meeting of some of the more active minds on the Montreal scene all focused here in their improvisatory efforts on the score of Prokofiev's 1917 suite of piano miniatures, Visions Fugitives. Arranger and musical director Pierre-Yves Martel has reworked eighteen of the twenty Prokofiev pieces and scored them for the quartet, taking liberties with the music to make room for improvisation and interpretation.
With standard Italian indications like "Lentamente" and "Allegretto," and the less common "Ridicolosamente and "Lento irrealmente" the pieces are distilled treats of classical sensibility, and while the quartet respects the spirit of the pre-composed music, they thankfully take it outside the box, as in the trumpet smearing and gentle squeals and wind-patterns of the opening cut or the Don Cherry minimalist and quasi-dixieland playfulness of "Commodo".
Using the Russian composer's themes as "heads," preceded by intros and followed by tags or codas, the musicians explore the character of each piece. This may seem like riding on the coat-tails of the famous Russian, but Pierre-Yves Martel's classical background as viola de gambist gives him an edge since he obviously understands the meaning of the music well enough to pull the rabbit out of the hat. And while the personalities of these musicians are distinct, they blend convincingly. Allen's variety of trumpet timbre, often tending to graceful understatement, Lauzier's supple reeds, Ceccarelli's timekeeping and colorist drumming and Martel's eclectic bass vocabulary that can be as intense as William Parker and as light as a Strauss waltz are definitely complimentary colors. Add to this an excellent use of texture changes, tempo fluctuations and equilibrium between the composed and the improvised and this makes for a disc that is both fun and serious.
Comments and Feedback: