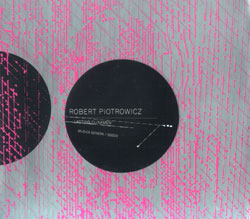 Polish electroacoustic improv label Musica Genera is one class act. Much like the magnetic visual aspects of their digipaks (all beautifully designed, rendered with an architect's eye towards shape placement, font caligraphics, and colortone), the artists that record for the label refuse anything as pat as "category" — EAI works as a broad generalization (re: the label's literal translation) but acoustic instrumentation is often as present. What sets the folks who record for Musica Genera apart from their peers is many of them operate out on the furthest of limbs, embracing ideologies torn from lowercase sound structures, computer minimalism, Cage-ian silences, airburst sonic explosives, Mego harddrive crashes...in short, the full spectrum of modern electric/unelectric dynamics, approached from seemingly all the wrong avenues.
Maverick Robert Piotrowicz considers his synthesizer a most noxious device, fit only for immolation. He isn't a just a wayward noisemonger by definition, nor does he conform to the extreme avant-garde dogmas emblazoned from well-on high (Subotnick, Babbitt, Buchla, Carlos) to those little-known (PBK, Six Or More, etc.). Apparently Piotrowicz's mandate on Lasting Clinamen is to test the very limits of his chosen weapon (in this case, a single Doepfer A100 analog modular), ignoring wholecloth factory presets, passé "space" eruptions, nomadic blipperies, or anything approaching an emergent style-hook less-forgiving shoppers might cling to in desperation. Like Thomas Lehn, Piotrowicz autopsies his instrument to see what he can screw with inside, reorienting your middle ear while he's at it.
Easy listening this record isn't. The grinding metal machine music of "Clinamen 1A" immediately ignites your speaker fabric on impact, Piotrowicz throttling his modulation wheel to the point of asphyxiation, mixing coagulating waves of sound in the finest Merzbow or Masonna tradition — done on the fly or not, this is molar-melting death-metal improv, not for the faint of heart, and not necessarily everyone's cup of gruel. Thankful respite ensues right as "Clinamen 2A"commences; quite anticlimactic after the prior full-frontal assault, it nevertheless percolates with abject tension, "1A"'s flipside, howling tornadic winds ratcheting up frequent flier miles. "Clinamen 1B" sees a return of the king — king noise, that is — as Piotrowicz imagines his head vibrating between two city block-size tuning forks, his electronic waves hovering just this side of concussive distortion. The closing segment, "Clinamen 2B" fluctuates in the midst of these twin poles — barely-controlled noises on the verge of anarchy — the artist defibrillating his machinery in a vain effort to hold chaos at bay. Challenging music for overwrought times, although the efficacy of Piotrowicz's work remains questionable, for at close range, immolation surely feels imminent.
Comments and Feedback: