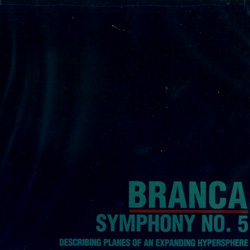 Glenn Branca's fifth electric symphony went unreleased for 12 years because, according to the liner notes of the CD issue, he was unhappy with the quality of the recording. It's hard to see why, though. Given that a massive pounding soundfield of drums, keyboards, two electric basses and seven electric guitars can only be isolated and contained so much on a recording (especially in 1984), or by the human ear, for that matter, it's a clean recording. And in any event, it's what we have - and it's an important part of the development of downtown post rock.
Branca is known for his multiple-guitar works, with waves of energy thrown at the listener, and is both the spiritual and actual godfather godfather of Sonic Youth (guitarists Thurston Moore and Lee Ranaldo met in his band). But while Symphony No. 5 is washed in pounded chords, it's really more like a sonata for drum kit. After the ambient haze of the first movements, Stephan Wischerth takes over, driving the piece with heavy, incessant rhythm. It's a bit of audio trickery. The sound of electric guitar is so engrained as a symbol of power that when the drums rise above it, they seem disproportionately huge. Even when Wischerth is hitting only once or twice per bar, with the guitars circling around him, he is the focus. The orchestra is there to provide support.
It's in the orchestra, however, where Branca's hand is felt (literally, as he is playing one of the guitar parts while conducting). The ascending tremolos, the contrapuntal slashings and the gradual mounting of tension are Branca's stock in trade. In about 45 minutes, Branca's builds from the relative pastorale of the first movement to the absolute bash and din of the sixth. It's quite a ride.
Comments and Feedback: