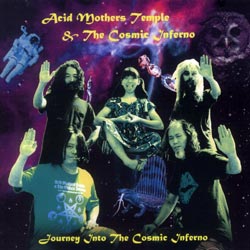 It's surprising that the Acid Mothers project has carried on for 13 years now. Never quite the sum of their parts, the rotating collective can be jammy to the point of silliness but occasionally reaches apogees of psychedelic ecstasy.
Unfortunately, one of the most creative members is not present in The Cosmic Inferno, the latest incarnation of the band. Along with front man Kawabata Makoto, Tsuyama Atsushi was one of the most parts of the group outside the Acid Mothers fold. The versatility he showed on solo albums and the inventiveness in various projects with Ruins drummer Tatsuya Yoshida suggest that he might have had much to do with mixing up the Acid Mother groove. Makoto is a great guitarist and has produced some beautifully hypnotic albums on his own, but he doesn't seem to be the one that shakes the Mothers from their stasis.
So Tsuyama is out, but the good news is that Afrirampo drummer is in. Their previous meeting on CD, We Are Acid Mothers Afrifampo!, from 2005 was fun but didn't quite live up to the promise. On Journey into the Cosmic Inferno, however, they come much closer. The disc is a six-part suite that definitely falls closer to the Acid Mother groove than Afrifampo's tribalism, but is more contained than AMT at their indulgent best. It's reverb-drenched and repetitive, of course, but works as an evolving whole, with Pikachu's vocals adding much more than Cotton Casino's thin voice did.
Acid Mothers aren't going to create anything new, and clearly they're not in it to. But they can still outtrip many of their '60s forebears. Journey Into the Cosmic Inferno is one of the better of their many records.
Comments and Feedback: